New Assistant Manager at The Shop, New Opportunities for Growth
Posted on

May 11, 2022

by

admin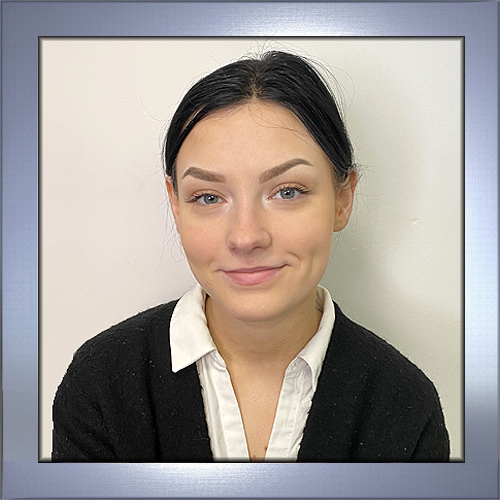 Nutley Family Service Bureau (NFSB) recently welcomed Heather Amendola as Assistant Manager of The Shop. With experience in retail, customer service, and graphic design, the 2017 graduate of Nutley High School is excited to share her passion for fashion, art, and thrifting with the Nutley community. Peg Conca, Shop and Pantry Manager at NFSB shared, "I'm excited to have Heather's expertise in fashion and design. Now that she has joined our team, we will be able to grow our eBay Store and branch out to other e-commerce sites such as Dipop, Poshmark and Etsy."
"More people are thrifting, including younger people, because they can find classic pieces in good condition at affordable prices," Heather said. "These are items people hold onto because they won't go out of style in a few months. I also love thrifting because it's better for the environment. It's like giving older clothes, shoes, housewares, and other items new life."
When the topic of recycling and the circular economy is discussed, it often focuses on aluminum cans, plastic bottles, and how to avoid using products that soon end up in landfills. Heather believes in bringing that sustainable mindset to all areas of life.
"I always try to be mindful of what I buy and how I shop," Heather said. "I try to buy things I'll keep for a long time and then donate them. 'One man's trash is another man's treasure' is very true."
Growing the eBay Store
The staff at The Shop has been operating an eBay store where higher-end items can be offered to a larger online audience. One of Heather's top responsibilities in her new role is to manage the eBay store. Katherine Carmichael, Executive Director is thrilled to have Heather at NFSB "Heather is helping Peg Conca and our volunteers expand our online Shop which means increased financial support for the programs and services NFSB offers the Nutley community."
"When volunteers bring us items that they think are valuable, I'll take a picture and try to find a match to see how much it's worth," Heather said. "If the item is valuable and in good condition, I'll list it on eBay. Most of the items sold on eBay are shipped to other states, but all the money still goes to NFSB."
Taking full advantage of eBay involves a certain level of trial and error with regards to deciding which items to list online or sell in the store, and how to price these items. With Heather on board to give the eBay store more attention, we're excited about the possibilities.
Getting Noticed on Instagram
Of course, the bread and butter of The Shop and the greatest opportunity to serve the local community are in the physical store. One way to attract more people to The Shop is to display inventory on Instagram.
"I enjoy putting outfits together, displaying them in The Shop, and posting pictures on Instagram," Heather said. "I've also created videos that show off our inventory when we have special sales. I try to post on Instagram a couple times a day."
The increased presence on Instagram is starting to pay off. Nutley residents are calling to find out if certain outfits are still available. Some have walked in right after they saw something on Instagram.
Discovering Everything NFSB Has to Offer
The opportunity to pursue her creative passions drew Heather to NFSB, and she hopes more people, especially in her age group, will become regulars at The Shop when they see vintage items that can't be found anywhere else.
"I grew up in Nutley but sadly never went inside NFSB until I interviewed," Heather said. "I was just amazed at everything they do, and not just in The Shop. I feel like this is what I was meant to do. Everyone needs to know about this place!"
Visit our website for updated hours for The Shop at NFSB and check out our eBay Store anytime! Money raised through The Shop and our eBay store supports NFSB programs.