Rock Hunger V: Five Great Bands, One Great Cause
Posted on

May 5, 2022

by

admin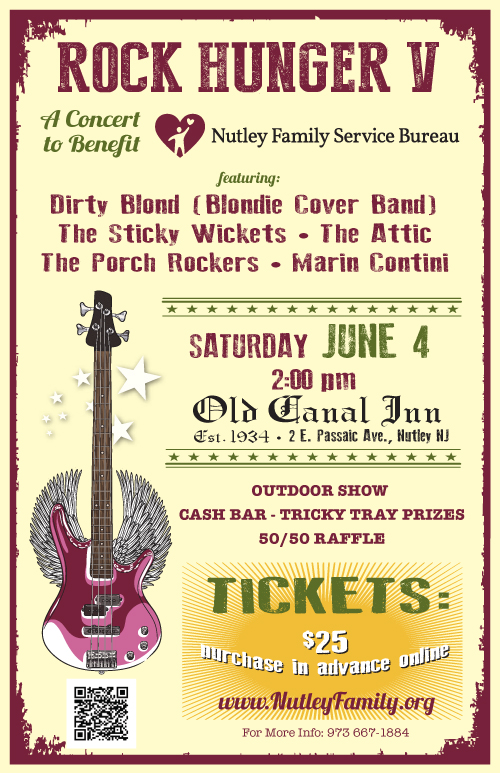 You know an annual event is a hit when people in the local community relive their favorite memories throughout the year and constantly ask about the next one. More people attend each year, and more money is raised for a worthy cause.
One thing about this particular event makes it a little different than the others.
It rocks.
Rock Hunger V, a concert to benefit Nutley Family Service Bureau (NFSB), including The Pantry, will be held Saturday, June 4 from 2 pm – 7:30 pm at the Old Canal Inn, 2 East Passaic Avenue in Nutley, NJ. Tickets are just $25 and include admission to the concert and opportunities to participate in our 50/50 raffle and tricky tray auction. There will be a menu and cash bar available. Mark Conca, co-owner of the Old Canal Inn, has once again donated the use of his space for Rock Hunger V. "June is Hunger Awareness Month," said Katherine Carmichael, NFSB Executive Director, "so it's a perfect time to bring everyone together outdoors with music to build awareness and support our food Pantry. Rock Hunger helps NFSB feed hundreds of food insecure families. I'm so grateful to Dave, the Rock Hunger Committee and community for all the support"
NFSB is looking to build on the success of Rock Hunger IV, which attracted more than 200 attendees and raised over $11,000 for NFSB programs. Last year's show was also the first to be held outside, and Rock Hunger V will continue the outdoor festival vibe. If it rains, the concert will move indoors at The Old Canal Inn on the same date.
The Bands
This year's Rock Hunger lineup features five bands, including four with direct ties to the Nutley community:
Marin Contini, a Nutley native and Bridgewater resident, is a singer, songwriter, pianist, and ukulele and guitar player.
The Attic, a local rock and soul cover band that has performed at every Rock Hunger concert.
The Porch Rockers, a local punk rock cover band and two-time performer at Rock Hunger.
The Sticky Wickets, formed in 1980 by Nutley High School students, including current principal Denis Williams on drums, returning for their third Rock Hunger.
Dirty Blond, a popular Blondie tribute band, will headline Rock Hunger V.
"Last year's Rock Hunger was definitely a cathartic-type event because it was one of the first major public events in Nutley since the pandemic," said Dave Popkin, First Vice President of the NFSB Board of Trustees, band member of The Attic, and founding member of The Porch Rockers. "This year, we're hoping to make it even bigger and better.
Rock Hunger is such a fun event because it brings people together from in and around Nutley who enjoy live music, all while increasing awareness of NFSB and raising money to support our mission."
Memories of the live experience are truly special. At Rock Hunger IV, when a member of The Sticky Wickets brought a microphone to the late local vocalist Jerry Tolve for an impromptu rendition of James Taylor's "You've Got a Friend," he brought the house down.
"Jerry was very well-known in the community and battling ALS," Dave said. Jerry was just unbelievable. There wasn't a dry eye in the house."
How You Can Get Involved
There are plenty of ways for you to support Rock Hunger V and NFSB.
Of course, we want to see you in person at Rock Hunger V, Saturday, June 4 from 2 pm – 7:30 pm at the Old Canal Inn, 2 East Passaic Avenue in Nutley. Check out the Rock Hunger V event page on the NFSB website for more information and download our event flyer!
Rocking Hunger Across the Country
Due to the overwhelming success of the first four Rock Hunger concerts, Dave Popkin is working to expand the concept to food banks, pantries, soup kitchens, and other nonprofits that address food insecurity.
"I've trademarked the Rock Hunger name and have been reaching out to similar organizations about holding concerts in their communities," Dave said. "What we've been able to do in Nutley is a prime example of how non-profits can build awareness and raise money through the power of music."
To learn more about Rock Hunger events and fundraising and share the concept with non-profits in other communities, visit www.rock-hunger.com.