NFSB Engages Local Youth to Stomp Out Mental Health Stigma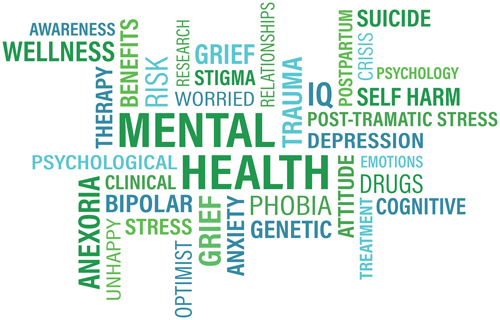 May is Mental Health Awareness Month. Nutley Family Service Bureau (NFSB) is proud to join a national movement to fight stigma, educate people about mental health disorders, and let people know that help is available.
"We want people to be aware that everyone experiences a mental health issue at some point in their life," said Staela Keegan, licensed clinical social worker (LCSW), licensed clinical alcohol and drug counselor (LCADC), and Clinical Director at NFSB. "We all experience grief, loss, and high levels of stress. It's nothing to be ashamed of and you don't have to deal with it by yourself. It's okay to ask for help, and you can get the support you need in a confidential, safe environment."
Wellness Day at Nutley High School
On Friday, May 20 from 8 am – 11 am, NFSB will be participating in Wellness Day at "The Oval" football field at Nutley High School. Wellness Day will be packed with fun and educational activities, including a mini-walkathon with the National Alliance on Mental Health, breakfast, deejay, dancing, yoga, and more.
At the NFSB table, we'll be teaching high school students about using breathing exercises with bubbles to get through periods of anxiety. We'll also play "Self-Care Bingo" so students can see all the different ways they can support their mental health and overall self-care. Everyone who participates will receive raffle tickets to win gift cards to Nutley businesses!
Stomp Out Stigma Poster Contest
Students in grades 3 through 6 at Nutley Public and Private Schools are encouraged to enter our Stomp Out Stigma Poster Contest. Posters will illustrate how students can be more inclusive and use kinder words with people who might seem different or isolated.
"When we include others, be kind to others, and help others, people become less afraid to ask for help when they need it," Staela said. "That's a major cause of the mental health stigma. There's such negativity surrounding mental health disorders that people are afraid to admit they have a problem or need help. Kids should never underestimate their ability to make someone's life better."
Bullying is often rooted in a lack of understanding about other people's differences. The Stomp Out Stigma Poster Contest is an opportunity for students to use their creativity to express greater understanding and appreciation of others and how to be more inclusive.
The school that submits the most entries will have a visit from a Rita's Italian Ice truck!
NFSB is supporting the poster contest in partnership with Nutley Public and Private Schools, the Nutley Health department, the Nutley Police Department, and the Governor's Council on Alcoholism and Drug Abuse.
A Resolution from the Township of Nutley
Mental Health Awareness Month efforts are supported not only by NFSB, but the entire Nutley community. For that reason, the Nutley Board of Commissioners will issue an official resolution recognizing Mental Health Awareness Month.
The resolution will reinforce the township's commitment to increasing awareness and understanding of mental health disorders, educating the public about protecting their mental health, and promoting mental health services that are available and accessible to all Nutley residents.
"We at NFSB appreciate the continued support of Nutley Township public officials all this month and throughout the year" shared Katherine Carmichael, NFSB Executive Director.
Of course, NFSB will always be here for Nutley residents, providing mental health services and support to anyone who needs it. If you or someone you know is struggling with mental health or would like to learn more about the services we provide, please visit the NFSB website or call 973-667-1884.