No Waitlist for Appointments as NFSB Expands Counseling Program
Posted on

October 3, 2022

by

admin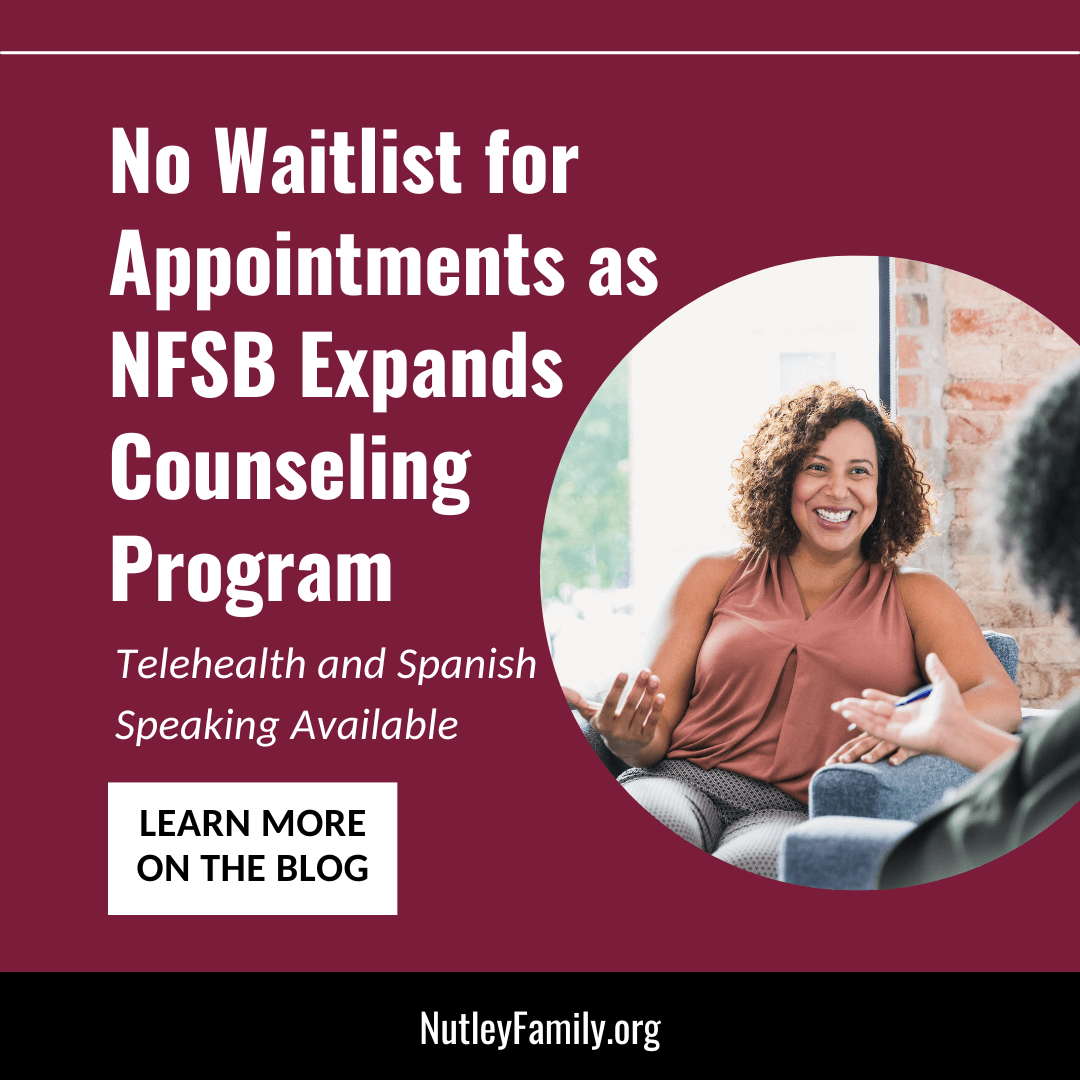 We're happy to see that more and more people view mental health as an important part of overall wellness. As a result, more people are actively seeking counseling to learn how to cope with difficult relationships, work stress, grief, substance use, and other challenges. More medical doctors are referring people to us for counseling.
After all, sometimes you just need help figuring things out, and that's okay.
Nutley Family Service Bureau (NFSB) is responding to this positive trend by expanding our mental health counseling program. We're excited to add two clinicians to a wonderful team of eight social workers and counselors.
Appointments are available 9 am to 9 pm Monday through Thursday and 9 am to 6 pm on Friday. We're accepting new clients with no waitlist!
"We have such an amazing team," said Staela Keegan, licensed clinical social worker (LCSW), licensed clinical alcohol and drug counselor (LCADC), and Clinical Director at NFSB. "We have clinicians with many different specializations who often work together to help the client see results a little bit faster."
For example, we have two clinicians certified in art therapy, which helps people express their thoughts and emotions in different ways. Many clinicians use cognitive behavioral therapy to identify negative behaviors and how those behaviors are affecting the client's life. We have clinicians who specialize in helping clients deal with trauma, infertility, and eating disorders. We have licensed clinical alcohol and drug counselors on staff. Three of our clinicians are bilingual.
No matter what challenge you may be facing, help is available, and you don't have to wait. The sooner you seek and receive help, to the sooner you can get back to feeling your best.
Solution-Focused Counseling
People often assume therapy is a lifelong process. Certain challenges will take time to overcome, and some people may continue with supportive counseling long after achieving their therapy goals. However, many people come to NFSB looking for help with a specific problem that can be addressed in a short period of time.
"With solution-focused counseling, we can help you learn coping skills and other techniques to help you deal with a certain issue, manage your feelings, and move on more quickly," Staela said. "Our clients often find that therapy doesn't last nearly as long as they assumed it would."
Real-world examples of solution-focused counseling:
We helped a young woman cope with grief and reclaim her life without guilt after the death of her father, who had terminal cancer and relied heavily on his daughter during this difficult period.
We helped the parents of a child with attention-deficit hyperactivity disorder (ADHD) learn ways to manage their child's behavior, organize the home for success, and support the child so they feel accomplished.
We helped a woman who was experiencing acute stress due to poor work life balance by recommending meditation, yoga, and other coping techniques.
In addition to counseling, we work closely with our case management team to coordinate and connect clients with various assistance programs and services if needed. This can help people overcome specific challenges more quickly and ensure all their needs are being met.
Help Is Available Right Away
The NFSB family is always here for you.
The expansion of our mental health program means you don't have to wait to receive help. In-person visits and telehealth appointments are available. To schedule an appointment, call 973-667-1884 or visit the NFSB website for more information.