NFSB Thrift Shop Expands Evening and Weekend Hours!
Posted on

September 28, 2022

by

admin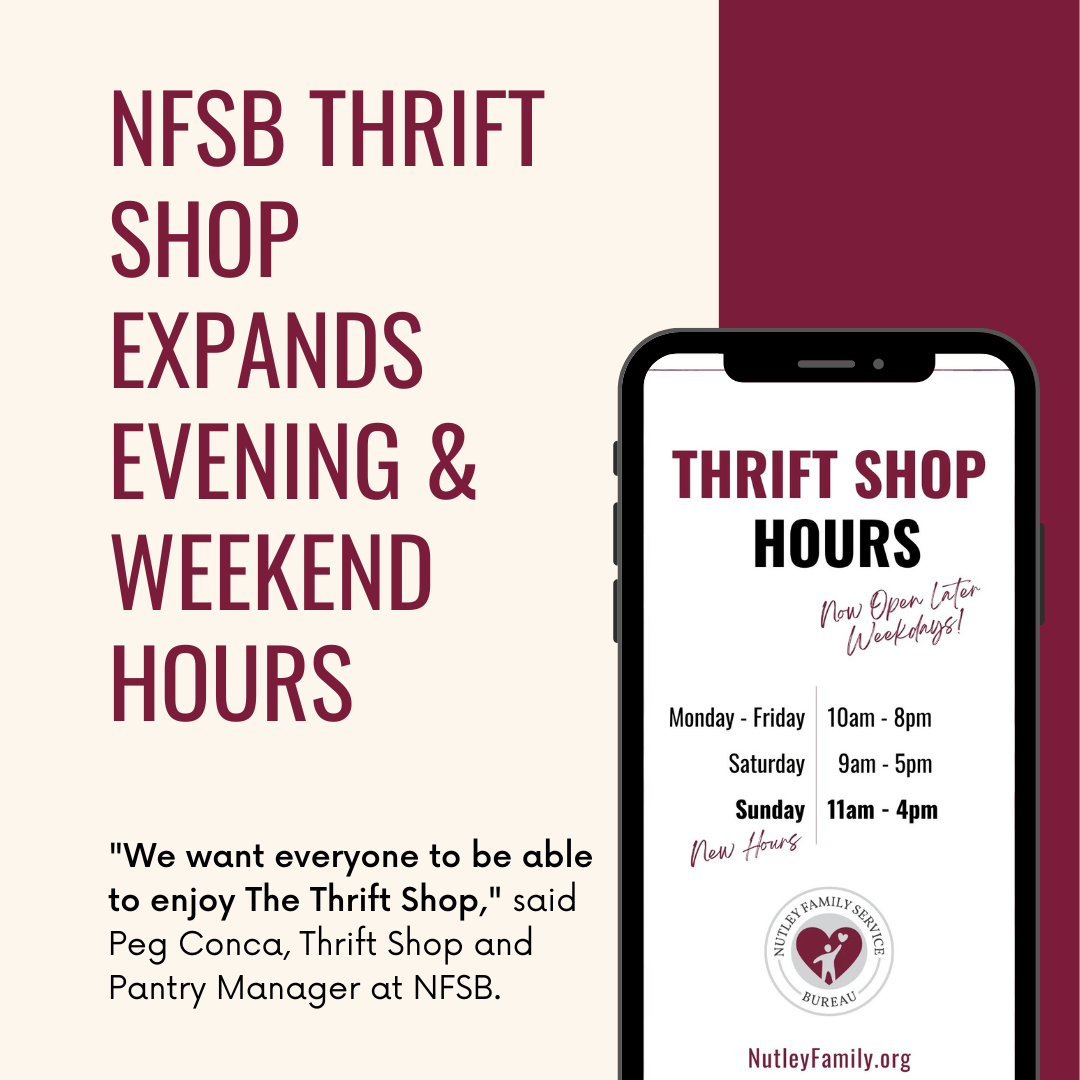 The stars have aligned, and the timing is perfect. People are back in stores, inventory is overflowing, thrifting has never been more popular, and most people still prefer to shop during evening and weekend hours.
That's why we're excited to announce expanded hours at The Thrift Shop at Nutley Family Service Bureau (NFSB) at 169 Chestnut Street!
Here are the new hours at The Thrift Shop.
Monday – Friday: 10 am – 8 pm (previously 10-7)
Saturday: 9 am – 5 pm (previously 9-3)
Sunday: 11 am – 4 pm (previously closed)
Quick math tells us the total number of hours open each week has increased from 50 to 63. That means you have 13 more hours to go thrifting during evenings and weekends!
"We want everyone to be able to enjoy The Thrift Shop," said Peg Conca, Thrift Shop and Pantry Manager at NFSB. "We hope to expand our customer base by adding hours and giving people who work traditional business hours more opportunities to shop."
All proceeds from sales at The Thrift Shop support NFSB programs and services, including the Food Pantry, Mental Health Counseling and Case Management.
More Inventory, More Volunteers, More Staff
In addition to making The Thrift Shop more accessible to more people, the community has been extremely generous with donations, which has led to overflowing inventory. Expanding hours at The Thrift Shop will give staff and volunteers more time to process and sell this inventory.
Of course, additional hours mean more need for volunteers. The good news is that people who are only available on evenings and/or Sundays will now be able to volunteer at The Thrift Shop.
"I had an interesting conversation with a woman about volunteering just recently," Peg said. "She said she hadn't volunteered in 40 years because she was working a full-time job and never had the opportunity. Now we have an evening shift that works for her schedule."
To support The Thrift Shop with expanded hours of operation, we're excited to welcome Nikko Stevens to the staff as a full-time Assistant Manager. With 20 years of experience in retail, Nikko will apply her knowledge to assist with every aspect of operations, including inventory management, volunteer management, and merchandising.
An Early Start for Winter Wonderland Sale
The Winter Wonderland Sale typically starts on Black Friday, the day after Thanksgiving. This year, like most Black Friday sales, the Winter Wonderland Sale at The Thrift Shop will start much earlier on November 1!
"Because the Winter Wonderland Sale is so popular and we have so much holiday inventory in addition to our everyday items, we want to take advantage of the extra hours to start the sale a few weeks earlier," Peg said. "This will give people an opportunity to start their holiday shopping early by thrifting rather than going to big retail stores."
How You Can Help
Although inventory levels are high, we can always use new items to replenish the shelves in The Thrift Shop and on our eBay Store! For lists of items we can and can't accept, as well as Donating Dos and Don'ts, visit The Thrift Shop page on the NFSB website. Donations of new and like-new items may be dropped off at the rear of the building at 169 Chestnut Street in Nutley.
If you always wished you could volunteer at The Thrift Shop on Sundays and weeknights, your wish has come true! For more information about joining our family of volunteers, visit the Volunteers page on our website or stop by The Thrift Shop during our new hours of operation:
Monday – Friday: 10 am – 8 pm, Saturday: 9 am – 5 pm, and Sunday: 11 am – 4 pm.