Personalized Shopping at a Food Pantry? It's Happening at Nutley Family Service Bureau!
Posted on

October 13, 2022

by

admin
The Pantry at Nutley Family Service Bureau (NFSB) is going through an exciting transition. We're no longer handing out prepacked bags of food to clients. When clients come to The Pantry, they go shopping!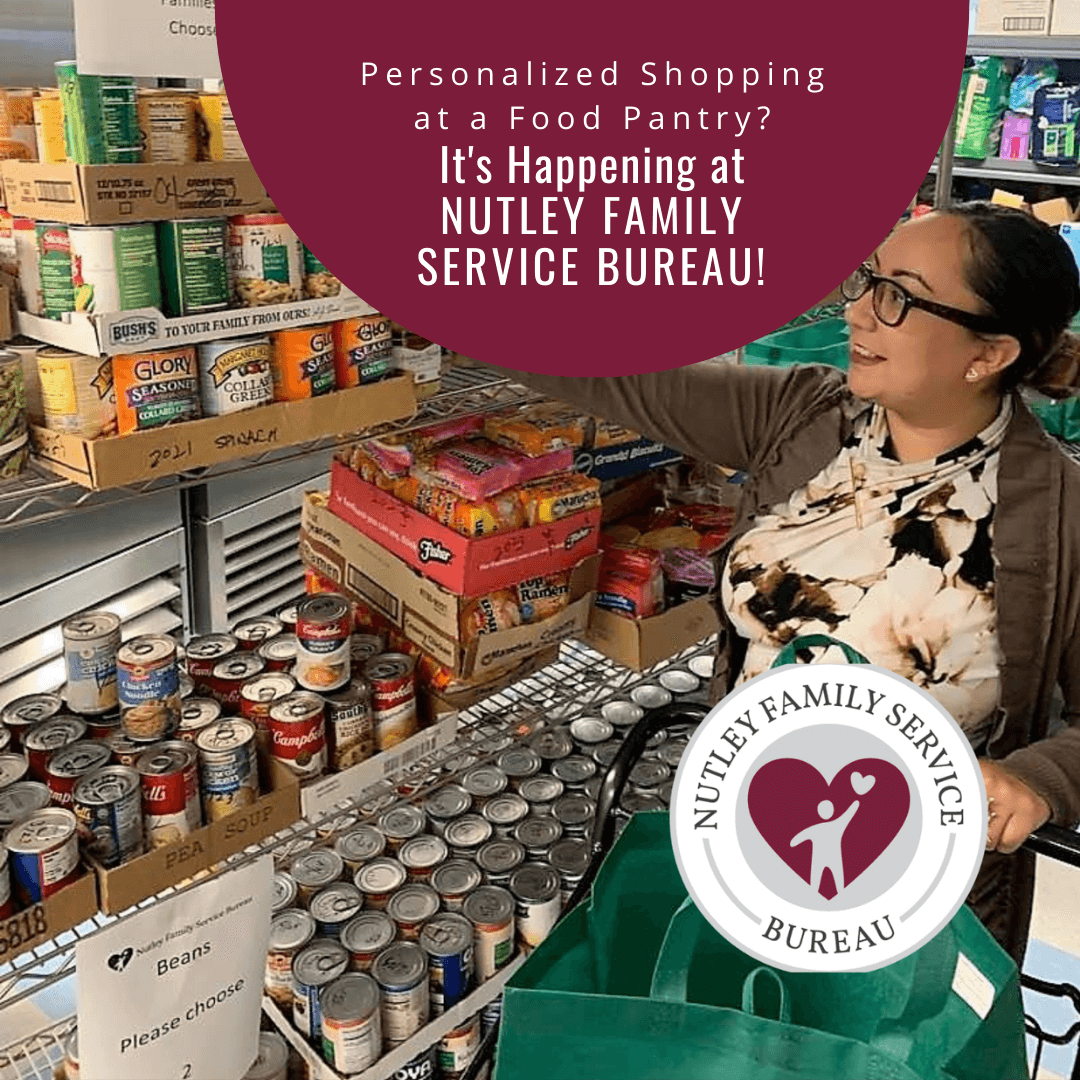 "Everything clients bring home is something they've seen and chosen," said Pantry Assistant Manager Joan Roake. "They choose their own proteins, produce, bread, and nonperishables and fill their bags with nutritious items they like. If the doctor has them on a diet, they can choose items that the doctor approves."
In addition to being able to shop for groceries, clients of The Pantry no longer have to wait in line outside, which can be difficult regardless of weather – sun, rain, cold, wind, or snow. Clients now arrive at the Pantry at an assigned pickup time and volunteers guide them through the process.
"I can't say enough about the Pantry volunteers," Joan said. "They're the reason why the program has gotten off to such a great start. They used to pack about 140 bags for each distribution, but now they pull items from back shelves and organize them on display shelves. They do such a great job sorting items into categories and making the presentation look fancy."
A process that many take for granted during a weekly trip to the grocery store has taken months of planning and organization to implement. Because of the new appointment system, The Pantry typically has three clients shopping at one time and five or six at most.
With clients, volunteers, and shopping carts, space can be tight, but the new system has made it possible to control the flow of people and provide an enjoyable shopping experience.
Thumbs Up from the Community
"We have a client who's incapable of coming to The Pantry, so three relatives take turns picking up his food," Joan said. "One of his relatives stopped by and was blown away because she was able to choose everything. She couldn't believe how organized everything was. That's a testament to our volunteers."
Feedback from Pantry clients has been overwhelmingly positive. They've always been grateful for the food they've received but being able to shop for their own food adds a sense of empowerment.
"Our clients aren't afraid to tell us when we don't get something right," Joan said. "We love that about them because it helps us improve. But we haven't received any negative comments or complaints because they're so glad they can come to a food pantry and actually choose what items they bring home and eat."
How You Can Help
We can always use more volunteers and food donations!
If you're interested in learning more about volunteering at The Pantry, please visit our website or consider attending a Volunteer Information Open House on the second Monday of the month at 11 am or the third Tuesday at 6 pm.
Our greatest need is keeping our refrigerator shelves stocked with fresh produce, milk, and eggs. Through our Adopt-a-Shelf program, individuals, businesses, and groups can fill one or more shelves for a single distribution or longer. Monetary gifts, gift cards, and in-kind donations are welcome!
Distributions at The Pantry are still held biweekly from noon – 5 pm on Wednesdays and 10 am – 1 pm on Thursdays. If you or someone you know is experiencing food insecurity, please call 973-667-1884 extension 2 to enroll in our Pantry services or visit our website for more information.