Sheldrake Lukas and Xandt Wyntreez Set to Perform at The Garden Party
Posted on

August 18, 2022

by

admin
When Sheldrake Lukas and Xandt Wyntreez bumped into a member of the Nutley Family Service Bureau (NFSB) board of trustees at a dinner party in 2018, they had no idea the chance meeting would turn into annual performances at The Garden Party. In fact, they weren't sure how their talents would be used at such an event.
That initial apprehension turned out to be unfounded as Sheldrake and Xandt were an instant smash with event attendees. In fact, they've returned to The Garden Party every year, steadily building a following with an audience that now eagerly awaits their performances.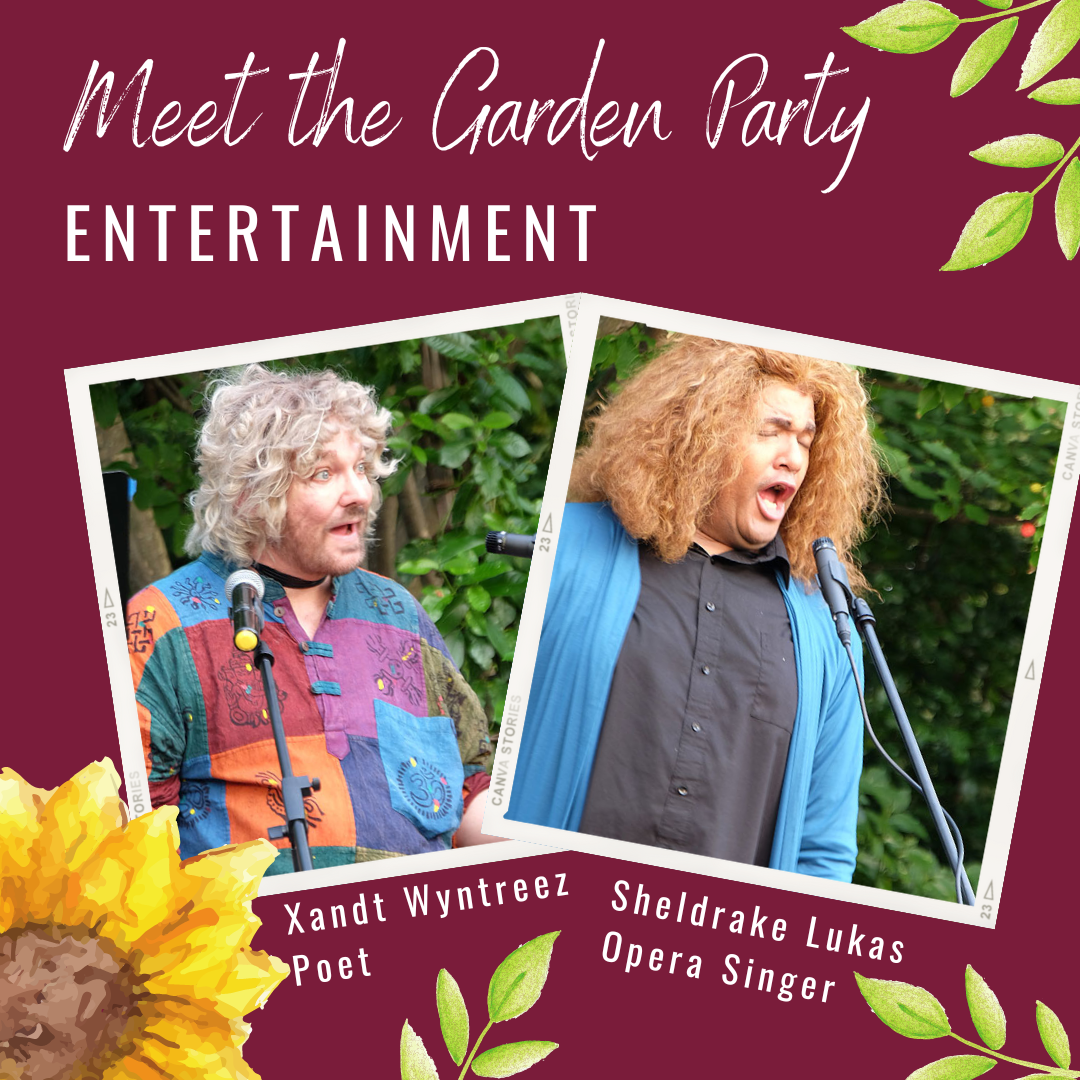 NFSB invites you to The Garden Party at the spectacular Mountsier-Hardie Garden at 205 Rutgers Place in Nutley on Sunday, September 18 from 4 – 7 pm. This fundraiser benefiting NFSB will once again feature an eclectic lineup of entertainment, including:
Sheldrake Lukas (Opera Singer and Actor)
Xandt Wyntreez (Poet / Spoken-Word Artist)
The Attic (Pop/Rock Band)
Mina Greiss (Pop Artist)
Jerome Bongiorno (Jazz Guitarist)
Ian Frobose Quartet (Jazz Band)
Meet Sheldrake Lukas

Sheldrake Lukas is an accomplished opera singer and actor with Carnegie Hall, New York City Opera, Off-Broadway, and recital performances to his credit. At this year's event, Sheldrake will present a program of dramatic and comedic Opera arias and musical-theatre songs, with a possible non-classical number or two.
"One aria deals with lies, malicious slander, and the destruction they cause, but in a way that makes audiences laugh," Sheldrake said. "Another aria is more dramatically impactful, while the final portion of the program will feature popular numbers like Old Man River, South Pacific, and possibly a Frank Sinatra classic."
During the pandemic, Sheldrake was forced to rethink his performance opportunities. He explored virtual and outdoor concerts, which allowed him to communicate with his audience in different ways. Of course, Mountsier-Hardie Garden offers a setting like no other for a live, outdoor performance.
"I'm very proud to have been invited back to The Garden Party each year and love performing at Mountsier-Hardie Garden," Sheldrake said. "Initially, I grew up in a very poor neighborhood, and my family were beneficiaries of other people's contributions, including clothing and food. I'm grateful to be able to give back by sharing my talents during such a wonderful event."

Meet Xandt Wyntreez

A North Carolina native who moved to New York to become an actor, Xandt Wyntreez developed into an oft-published poet/writer. An Allen Ginsberg Poetry Prize honoree who has also been awarded by Sensations Magazine, Xandt has a new memoir piece, titled Coffee and Conspiracy at 4, that was recently published in the Paterson Literary Review #50. He also co co-stars in Humanity Denied, a virtual theatre production, which will soon make its world premiere.
Xandt's performance at The Garden Party will feature personal pieces that promise to have audiences relating to Xandt as a poet, actor, and performer. One of the reasons why he enjoys performing at The Garden Party is that the audience isn't always sure what to expect.
"People are often surprised by what they end up experiencing," Xandt said. "Some parts of the program are deeply profound and thought-provoking, but the audience also ends up laughing and having a good time. I like to share my sense of humor on stage because it allows the audience to have fun and become more engaged."
Of course, performing in a stunning outdoor space like Mountsier-Hardie Garden while supporting the NFSB mission takes everything to a different level.
"Mountsier-Hardie Garden does nothing but enhance the performance for the audience and us as performers," Xandt said. "There's such a great feeling of community because everyone is there to support each other, especially those who benefit from NFSB programs."
See Sheldrake and Xandt at The Garden Party!
Performances at previous Garden Party events have helped Sheldrake Lukas and Xandt Wyntreez build large, local followings. This has led to a number of performance opportunities that allowed them to reach a wider audience, who they expect to be there for The Garden Party in September!
To purchase tickets for The Garden Party, volunteer, or donate, please visit the event page on the NFSB website. We look forward to seeing you at Mountsier-Hardie Garden at 205 Rutgers Place in Nutley on Sunday, September 18 from 4 – 7 pm!