Thank You, Nutley, for 3 Incredibly Successful NFSB Events
Posted on

July 1, 2022

by

admin
Over the course of a six-week span, Nutley Family Service Bureau (NFSB) hosted three of our biggest events of the year – the Scouting for Food Town-Wide Food Drive, A Night at the Races, and Rock Hunger V.
Thanks to the outpouring of support from the Nutley community, all three have been remarkably successful. Let's take a quick look back at these events.
Scouting for Food Town-Wide Food Drive
35,716.
That's the number of items donated by the Nutley community and collected and delivered by local Scouts and their families during the 2022 Scouting for Food Drive on April 30. These items are enough to stock The Pantry for a year so NFSB can continue to fight food insecurity in Nutley.
Although that staggering number is slightly less than last year's total, The Pantry staff and volunteers observed that the items donated were both healthier and higher quality. For example, we noticed more organic items and less sugary cereals.
We also received $320 in monetary donations and $580 in Shop Rite gift cards, all of which will be used to purchase fresh fruits and vegetables, proteins, and dairy items to supplement shelf-stable items.
Given the high cost of groceries compared to last year, the value of donations in terms of health and cost is incredibly impressive.
Another mind-blowing number… 119.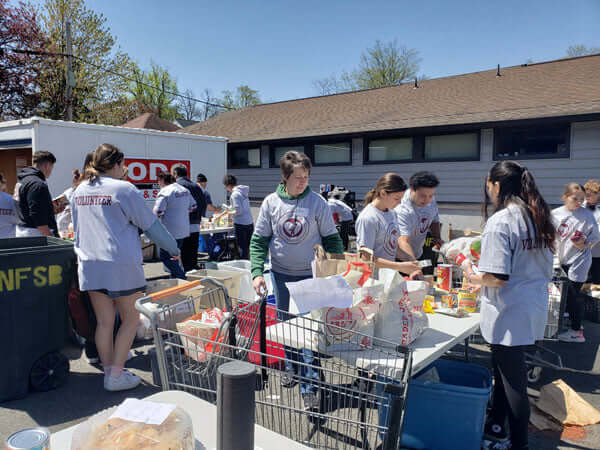 That's how many volunteers helped NFSB receive and organize donated food items on the day of the event. This is about double the number of volunteers of previous years. A special thank you to event committee chair Ken Cibelli and NFSB Pantry and Shop Manager Peg Conca for organizing and mobilizing our volunteers and leading the planning of this wonderful event!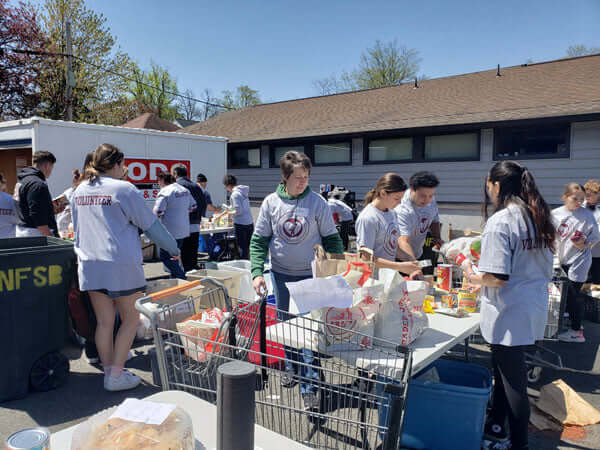 "We're so grateful to Walt Smith and Monica Suarez and the Scouts and their families for the time and effort they put into distributing shopping bags, collecting food items, and delivering them to NFSB," said Katherine Carmichael, Executive Director of NFSB. "It was like an endless parade of cars and trucks, all filled with food that will go to our neighbors who need it most. Seeing kids so energized and motivated to help people makes Scouting for Food such a feel-good event."
NFSB will be holding an event in appreciation and celebration of Scout troop 147, Pack 141, and Pack 142 on Wednesday, June 29 at the Knights of Columbus!
We also had more groups of volunteers than ever helping with Scouting for Food. We want to thank our neighbors at the Nutley Masonic Lodge for supporting us with volunteers and donating their parking lot, where two storage pods were filled with food items.
Thank you to Ritacco's Pizza, Hero King, and Dunkin Donuts for generously donating food to support the volunteers and NFSB staff on the day of the food drive.
Of course, the Scouting for Food Drive is not a one-day event. Once food is received, it has to be dated and sorted. This takes about two weeks. Special thanks to all the individuals and groups who volunteered at different times, including:
The John H. Walker Middle School Student Council
The Lincoln School Service Club
Abundant Life Church Women's Groups
Cub Scout Pack 141
The Nutley High School Key Club, Student Council, Rise Program, and Special Education Program
"We are so proud of our community for the generous donations of food and the countless hours of volunteerism for a spectacular show of support to The Pantry at NFSB," said Pantry and Shop Manager Peg Conca.
Check out the Scouting for Food page on our website for event pictures!
A Night at the Races
A sellout crowd of more than 200 guests had a wonderful time cheering for their favorite horses during A Night at the Races on April 23 at the Starlight Dance Center. This exciting event raised $23,000 for NFSB!
Emilie Pulecio, Development and Public Relations Coordinator, "The crowd was cheering in excitement for their horses! The staff, volunteers and audience who dressed up made it look like an actual Derby event at the track. We will encourage more of the theme for next year."A special thank you to Pag's Restaurant for providing a wonderful dining experience for guests, volunteers, and staff, as well as our event sponsors:
Mulligan Motors
American Made Custom Cabinet Company
Bond Street Mortgage
Core Physical Therapy & Sport Performance
Hilltop Management
Michael Evangelista
Kozyra & Hartz
Lightbridge Academy
NFSB was very fortunate to have a team of 41 volunteers supporting A Night at the Races. Volunteers who handle everything from set up and break down to serving food and selling raffle tickets help keep our costs down so more money can go directly to NFSB programs.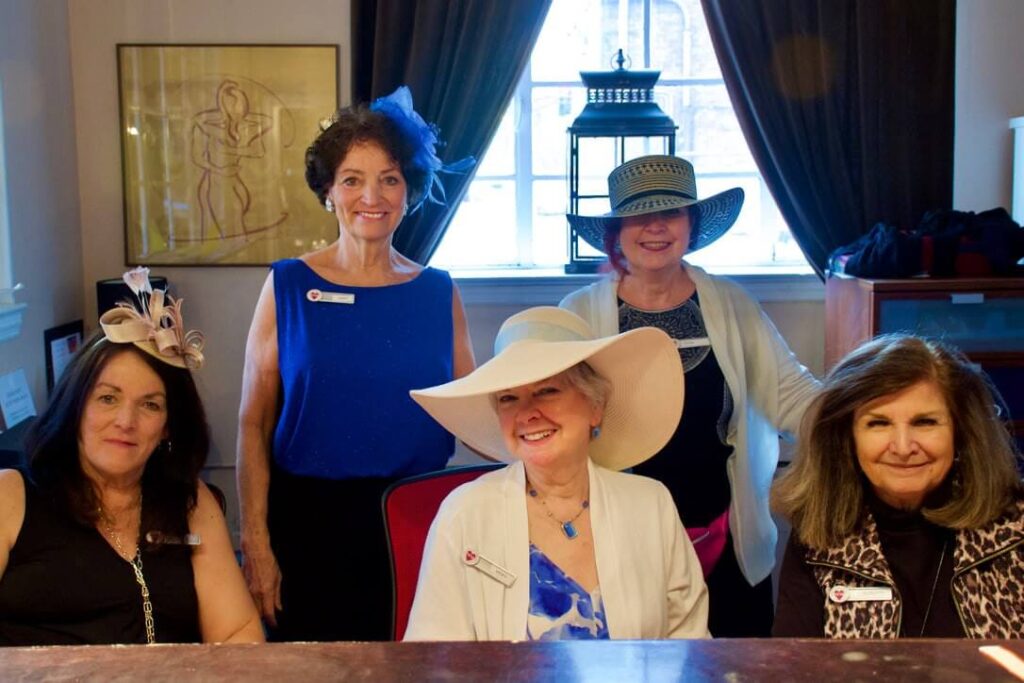 "In addition to dozens of volunteers, our event committee plays a huge role in the success of A Night at the Races," Katherine said. "Emilie Pulecio our Development and Public Relations Coordinator along with the Committee members organize the event, secure sponsorships, manage volunteers, and find donations for the tricky tray, which had about 50 items this year! They meet for months to plan and their hard work is evident when we see the event unfold."
Thank you to A Night at the Races committee chair Marla Hunter and members Ken Cibelli, Melissa Florie, Rob Frannicola, Mike Padilla, Dave Popkin, Denise Roman, Allison Tapia, Frank Turano, and Kelly Ziek.
Check out the A Night at the Races page on the NFSB website for event photos and videos!
Rock Hunger V
When you turn a concert into an outdoor festival, you're sometimes at the mercy of the weather. For Rock Hunger V, the weather – and the music – were absolutely perfect.
In other words, it rocked.
Rock Hunger V raised an amazing $12,000 for NFSB programs and attracted an estimated 200 attendees throughout the day! Thank you to our host, Mark Conca, who graciously donates The Old Canal Inn to host Rock Hunger every year.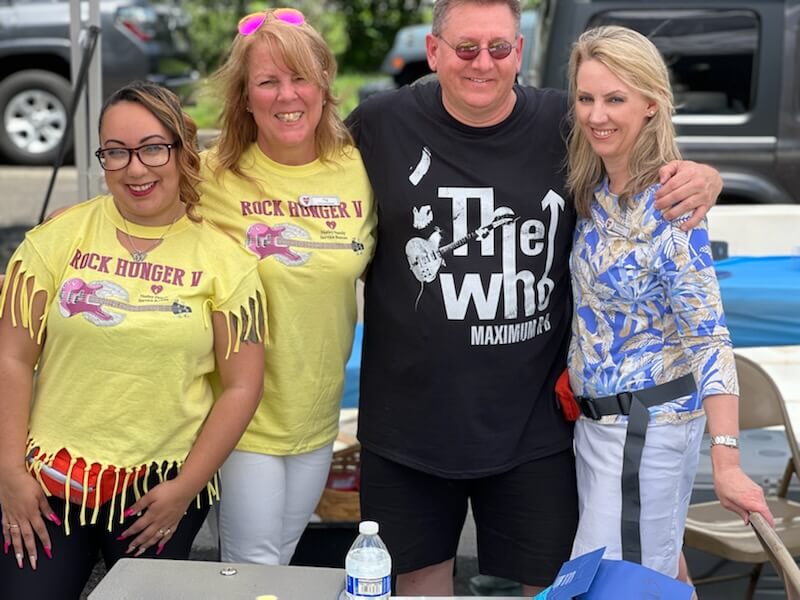 .
Rock Hunger V boasted a top-notch lineup of five local bands who donated their time and talents to treat guests to an eclectic mix of rock, soul, punk, and folk music. Thank you to the participating bands:
Dirty Blond (Blondie Cover Band)
The Attic
The Sticky Wickets
Marin Contini
The Porch Rockers
Sponsorships continue to grow for Rock Hunger as local businesses and individuals step up at various levels of support. Thank you to our Rock Hunger V sponsors:
JoAnn and John Brown
American Made Custom Cabinet Company
Grand Pro-Mo
Hilltop Management
Dr. Taji Karim-Reisch and Scott A. Reisch
Ann DiGiacomo – The Von Hoene Girls
Artistic Marble and Granite Surfaces
Hero King
Mamma Vittoria Catering
Pete's Deli
Saddle River Inn
Sergeantnutra
A special shoutout to our tricky tray donors: Bucco Couture, Cindy Rose Jewelry, Centre Nutrition & Wellness, Enforcer Fitness "Boxing Moms", Fascino, Lil Burgers, Kelly Ziek The Emerald Aisle, Mamma Mia's Pizza, Pag's Restaurant, Ralph Lauren, Saddle River Inn, Seton Hall, Quality Air Ventilation Services LLC, and VLu Fitness.
"I want to thank Dave Popkin, who chairs the Rock Hunger event committee every year and has done so much to grow our signature events," Katherine said. "Our two development chairs, Rob Frannicola and Kelly Zeik, have also invested a lot of time and energy into building sponsorship support for Rock Hunger and other events."
Check out the Rock Hunger V page on the NFSB website for event pictures!
Each of these events has become an annual tradition that Nutley residents look forward to every year. More than fundraisers for NFSB, these events are designed to bring people together.
"Events support NFSB with much-needed food and monetary donations, but we also see our signature events as opportunities to give back to the community that gives so much to NFSB," Katherine said. "People can gather with friends, meet their neighbors, and feel good about making a difference in their community. Everyone who gets involved becomes part of the NFSB family. Words can't express how grateful we are for the people of Nutley."