Ever Thought About Volunteering at NFSB? Here's How You Can Help!
Posted on

June 23, 2022

by

admin
Local, community-based nonprofits like Nutley Family Service Bureau (NFSB) rely on volunteers for both day-to-day tasks and special events that support the organization's mission. Without volunteers, local nonprofits would struggle to survive. Of course, volunteering is hardly a one-way street.
Research has shown that people who volunteer feel better about themselves. They feel a sense of fulfillment by making a difference. Students can earn school credit, meet community service requirements, and build their resumes through volunteering. For businesses, volunteering can be a wonderful team-building activity. And the social aspect of volunteering cannot be overstated.
"NFSB volunteers often share stories of the friendships they've made through volunteering," said Katherine Carmichael, Executive Director at NFSB. "Many started volunteering after moving to the area because they wanted to make friends and get involved in their community. Our family of volunteers is really a close-knit, welcoming group."
From seniors to teens, businesses to Scouts, and large groups to individuals, we encourage everyone to learn how they can help the Nutley community by volunteering at NFSB. Let's take a look at immediate and ongoing volunteering opportunities, and how NFSB helps volunteers make a bigger difference.
The Garden Party
The Garden Party is a wonderful community event held at the Mountsier-Hardie Garden in Nutley, featuring food from top local restaurants and an eclectic mix of jazz, classical, and contemporary music and poetry. Designed by owners Silas Mountsier and Graeme Hardie and famed landscape architect Richard Hartlage, the Mountsier-Hardie Garden is a two-acre natural treasure known for its brilliant landscape, more than 80 sculptures, charming seating areas and garden rooms, and thousands of flowers, plants, and trees.
We're in the process of forming an event committee for the Garden Party and will need volunteers to fill a variety of roles, from engaging with guests to setup and cleanup.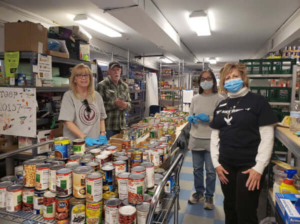 The Pantry
Food insecurity is a daily struggle for many residents in Nutley and throughout the country. The Pantry at NFSB can always use more help with both client-facing and behind-the-scenes roles, both of which are important to fighting food insecurity!
If you enjoy interacting with people, you can volunteer to help NFSB clients with personal shopping during food distributions or assist with food deliveries. If you prefer to volunteer in a less visible role, that's okay, too! You can help us manage food inventory by dating and sorting donated food items and stocking shelves at The Pantry.
The Shop
One of our goals at The Shop has been to extend our weekend hours to be more accessible to those who rely on NFSB for inexpensive, quality clothing and household items. We're looking for volunteers to staff the shop on Saturdays from 3 pm – 7 pm, Sunday 12 pm- 5 pm, and the usual weekday shifts.
Whether you're interested in helping clients shop, sorting through donated items, or assisting with merchandising by choosing which items to showcase in The Shop, we can always use more volunteers!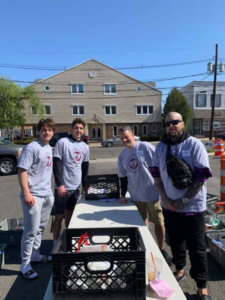 Group Volunteering
NFSB is happy to plan a day of service for your business, Scout troop, religious group, civic group, or other organization. If you have an idea of how you'd like to contribute to our mission, we'd love to hear it! For example, the Fur Pet's Sake Pet Pantry at NFSB got its start when local Girl Scout Braden Somers came to Pantry Manager Peg Conca with the idea for her Gold Award Project!
Volunteer Open Houses
If you've driven by NFSB or heard about an event and wondered what you can do to help, consider attending a Volunteer Information Open House! We are holding open houses on the second Monday of the month at 11 am and the third Tuesday at 6 pm. Upcoming dates include June 21st at 6 pm, July 11th at 11 am, and July 20th at 6 pm.
You'll be able to tour our facilities and speak with our managers and current volunteers about their experiences. This will give you an opportunity to learn about what volunteers do and the difference volunteering has made in their lives and the lives of the people we serve.
Anyone age 14 and older can volunteer on their own and come to a Volunteer Open House, while kids age 13 and younger can volunteer with a parent or guardian or as part of a group!
Of course, if you can't make it to an open house, you're more than welcome to contact us and schedule an individual meeting.
Volunteer Training
Beginning this summer, NFSB will be offering more Volunteer Orientation Training for both The Pantry and The Shop. Our goal is to not only show people what tasks they'll be expected to perform as a volunteer, but also to educate them about the challenges faced by our clients and when to refer them to case management for additional assistance.
"We're going to teach volunteers what to listen for when working with clients," Katherine said. "For example, if a client at a food distribution makes a comment or asks a question about not being able to pay their rent, volunteers should feel confident referring that individual to case management in a way that's well-received and appreciated by the client."
In addition to training volunteers to interact with clients effectively, we'll offer cultural competency training to ensure volunteers are comfortable working with an increasingly diverse client base and respectful of different ways people communicate.
The NFSB Friendly Neighbor-to-Neighbor Program funded by the State Farm Neighborhood Assist grant is in development. This program will match volunteers with seniors for regular visits and calls. We'll need to train volunteers on the process of visiting homebound seniors, how to engage them, and what activities to enjoy with them.
How You Can Help
Stop by for an upcoming Volunteer Information Open House on the second Monday of the month at 11 am or the third Tuesday at 6 pm. You can also contact Peg Conca at NFSB at mconca@nutleyfamily.org. "Volunteering is a rewarding experience for everyone involved, please consider joining our team, we would love to have you!" said Peg Conca, Pantry and Shop Manager.
We're extremely grateful for the contributions of volunteers at NFSB, whether they have regular hours every week or they chipped in during a fundraising event. We're working hard to expand our team of volunteers and enhance our volunteer training so NFSB can make a bigger difference!