Free Workshop to Focus on Helping Family and Friends Coping with Mental Health and Substance Use Disorders
Posted on

March 1, 2022

by

admin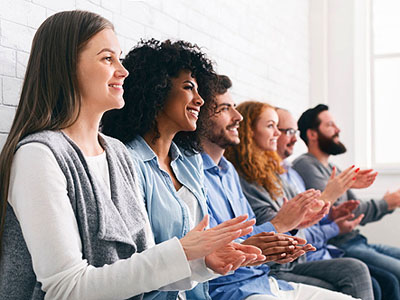 The Nutley Family Services Bureau (NFSB) is excited to kick off its free Mental Health Monthly Workshop Series with "Help for Family and Friends," a presentation focused on coping with mental health and substance use disorders. This community education event will be held on Wednesday, March 9 at 7 pm at The Knights of Columbus Community Room at 150 Chestnut Street in Nutley, across the street from The Center.
NFSB Clinical Director Staela Keegan, who is both a licensed clinical social worker (LCSW) and licensed clinical alcohol and drug counselor (LCADC), will lead the presentation and discussion. Prior to joining NFSB, Staela worked in both substance use disorder and mental health facilities for years and has witnessed both the struggles and the resiliency of the people she has encountered.
"This topic is so important because there's such a stigma surrounding mental health and substance use," Staela said. "Many people either have these disorders or know someone who is struggling. Friends and family members often feel helpless, ashamed, or responsible for their loved one's struggles. We want to help people understand that mental health and substance use disorders are common and there's help available for both those with the disorder and their families. "
What You Can Expect
Staela will discuss what mental health and substance use disorders are, how they have been stigmatized, and how this can prevent people from seeking help. She'll share information about:
Local support and self-help groups
Books and resources that provide insights into mental health and substance use disorders
The difference between helping and enabling
Treatment options, including individual and family therapy
Of course, everyone who attends is welcome and encouraged to ask questions without judgment. We plan to have a very open and honest discussion about mental health, substance use, and their impact on family and friends.
The First Step to Removing the Stigma
One of the primary goals of this workshop is to let people know that those with mental health and substance use disorders should not be ashamed to seek help. The first step, however, is increasing understanding of these disorders.
"If you're diagnosed with cancer, people surround you and support you," Staela said. "That doesn't happen with mental health and substance use disorders. People usually don't talk about it with friends and family and end up isolated, which makes the situation worse. Disorders are often viewed as a character defect or linked to criminal behavior. The fact is, these are diseases that require treatment."
If you or someone you know is struggling with a mental health or substance use disorder or showing symptoms, or you just want to become better informed, we encourage you to attend this free community education event.
Reservations are strongly recommended but walk-ins are welcome. Call NFSB for more information at 973-667-1884, option 1. Please visit the NFSB website for the full schedule of events and topics in our Mental Health Monthly Workshop Series.