Giving Tuesday
Posted on

November 28, 2022

by

admin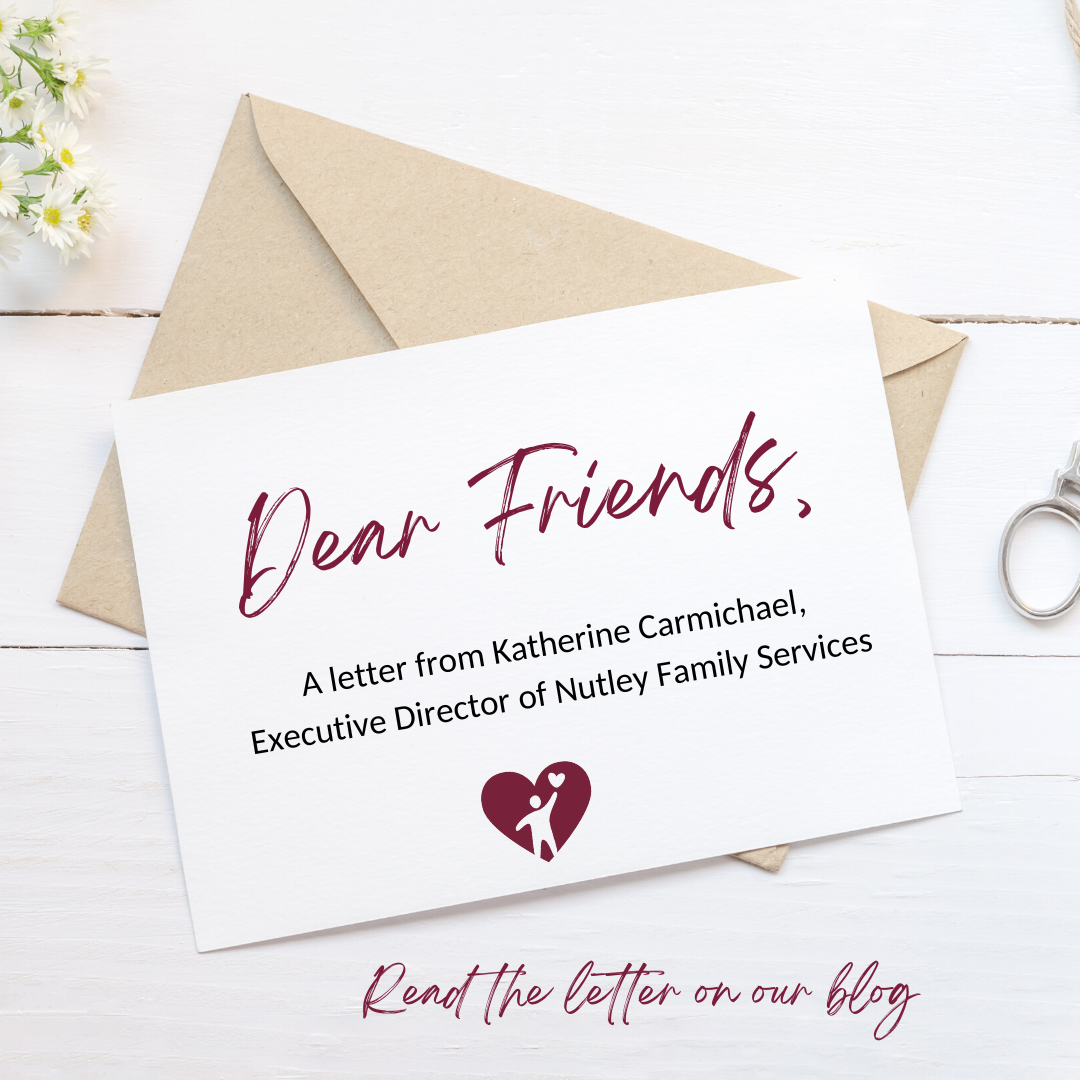 By Katherine Carmichael
Executive Director, Nutley Family Service Bureau
When I joined Nutley Family Service Bureau (NFSB) as Executive Director in September of 2020, we were six months into the pandemic. Demand for NFSB's mental health and social services through the Mental Health Program, Food Pantry, and Thrift Shop was increasing. Fast forward a little more than two years and need for these services has never been higher.
Fortunately, NFSB is surrounded by a wonderful community filled with compassionate people whose giving spirit and support for one another are truly remarkable.
We as an organization could not be more grateful for the generosity of our neighbors and friends in Nutley and surrounding communities. As we head toward the home stretch of 2022, I'm asking you to support NFSB once again.
How Important Is Giving Tuesday to NFSB?
Giving Tuesday, the first Tuesday after Thanksgiving, is so much more than a single day of giving. Giving Tuesday has grown into a worldwide movement that inspires generosity and service. In addition to monetary gifts, people recognize Giving Tuesday by volunteering as individuals or in groups, donating goods and services, and promoting worthwhile causes across their personal and professional networks.
Giving Tuesday is also the kickoff to the most important fundraising period of the year for local, independent nonprofits like NFSB. Among all nonprofits, about 30 percent of giving for the entire year typically occurs during the month of December, with 10 percent of all donations happening during the final three days of the year!
Needless to say, we depend on this time of year to fund NFSB programs and expand our services, so I hope we can count on your support!
The Impact of Your Support
Did you know NFSB was founded in 1913? Over the course of more than a century, NFSB has been there for the Nutley community through the Great Depression, two World Wars, Superstorm Sandy, and, more recently, the Covid pandemic and Hurricane Ida.
At the same time, the stress of everyday life can be overwhelming. Sometimes you need help dealing with relationships, job loss, financial hardship, emotional stress, and other challenges. NFSB will always be there to help you figure things out and find solutions.
Consider the story of "Mrs. Smith," who came to NFSB when a family member suggested she see us after noticing how visibly stressed she was. The stress was understandable, considering Mrs. Smith had struggled to find work since the pandemic. She was six months behind in her rent and on the verge of having utility services shut off due to unpaid bills.
NFSB Case Management Coordinator Molly Clark, MSW, helped Mrs. Smith apply for financial support and contacted her landlord and the utility company to let them know that her application was awaiting approval. The landlord and utilities agreed to delay taking action. When Mrs. Smith's benefits were approved, she was able to get caught up on her bills.
Although the immediate financial crisis was under control, Mrs. Smith still needed help managing her anxiety, so Molly referred her to the mental health program for counseling and emotional support.
This story is possible because no NFSB service or program exists in a vacuum. We're always looking for ways to improve each client's well-being. With your support, we can make a bigger difference in all areas of people's lives.
How Will You Recognize Giving Tuesday?
Will you organize a day of service? Will you collect items or fundraise? Will you make a donation? Remember, every act of generosity matters!
In the spirit of Giving Tuesday, I hope you'll consider making a donation to NFSB so we can continue to offer essential services to the Nutley community. Please visit the "Donate" page of our website to learn how you can give to NFSB.
On behalf of NFSB, I thank you for your continued support and wish you all the best this holiday season.