How Couples Therapy Can Prevent a Crack in Your Relationship
Posted on

May 17, 2023

by

admin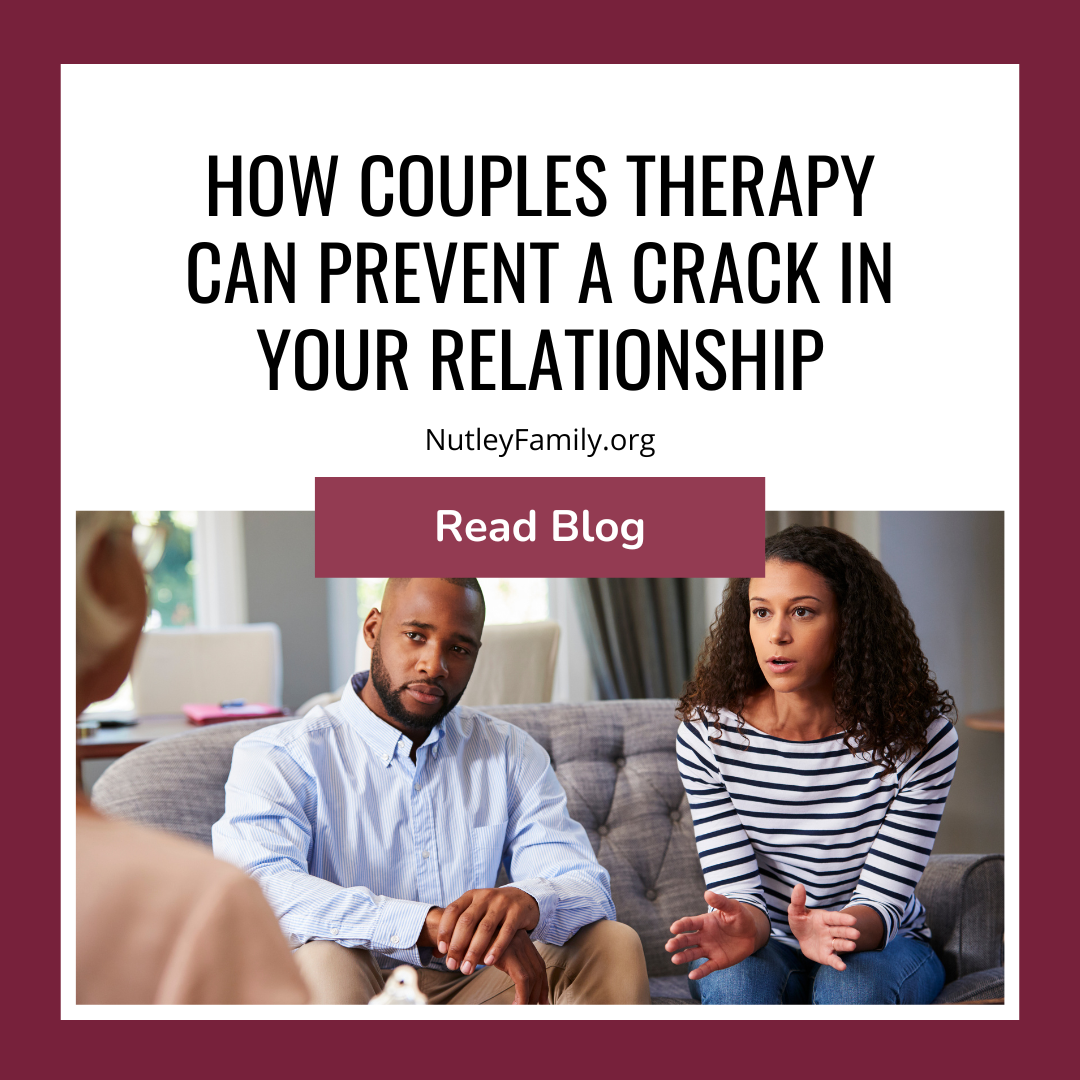 Ever have a small stone or piece of gravel hit your windshield and leave a small chip in the glass? In many cases, you can pick up a repair kit and apply epoxy resin to the chip so it doesn't get worse.
Of course, if you don't take action to fix the chip, it can turn into a deeper crack that spreads across the windshield. Before you know it, you have to replace the entire windshield.
Relationships between couples are very similar.
"We've seen many couples that have communication challenges, different views on parenting, or they're simply overwhelmed because they're trying to juggle their careers with parental responsibilities," said Staela Keegan, Master of Social Work (MSW), Licensed Clinical Social Worker (LCSW), Licensed Clinical Alcohol and Drug Counselor (LCADC), and Senior Clinical Supervisor at Nutley Family Service Bureau (NFSB). "If couples don't address issues like these, one or both individuals can become resentful and angry and a crack in the relationship begins to form."
A crack in a relationship can lead to a wide range of problems, from lack of trust and support to infidelity and even divorce. In many cases, couples therapy can help you identify solutions and make changes that strengthen the relationship before it worsens.
"The relationship is the foundation of the family – not the kids, not your jobs. The relationship is most important," Staela said. "To use another metaphor, look at the relationship like a bank account. When there are times of stress or crisis, you take withdrawal. At some point, you have to refocus on the relationship and build it back up to where it needs to be."
Solution-focused couples counseling that addresses specific challenges in the relationship can produce much better outcomes in a short period of time when these issues are addressed early.
Couples Therapy Techniques for Improving Communication and Support
Most challenges in life can be solved, or at least helped, with better communication. This certainly applies to relationships. One technique for improving communication and understanding involves the couple simply listening to their partner and repeating back what they said.
"This sounds so simple, but many people just want to tell their side of the story," Staela said. "Couples counseling helps you understand what your partner is saying. When one person says they didn't feel supported and offers a few reasons why, and their partner repeats it back, the entire mood of the room changes. You immediately gain a better understanding and awareness of your partner's feelings."
This is about reflective listening and focusing on what your partner is saying. You'll have a chance to express your feelings but you need to be willing to listen and consider what you can do to make the situation better.
Couples counseling should be approached with specific goals in mind and a genuine commitment to achieving them. If you see counseling as a last-ditch effort, or you're already checked out and hoping this will smooth things over, you're not likely to achieve meaningful results.
You Don't Have to Be Married or Parents to Benefit from Couples Therapy
The unfortunate reality is that most people don't seek counseling until a particular challenge is affecting their quality of life. However, couples can start building a strong foundation for their relationship before they get married or have kids.
"Couples therapy can help you figure things out and prevent stress and conflict later in the relationship," Staela said. "Suppose you were brought up in a super strict family, and your partner's family was more laid back with few rules. Wouldn't it be helpful to discuss your parenting styles and find common ground before you have a child? You may have assumed you shared the same beliefs but that isn't always the case."
Couples counseling prior to marriage or starting a family gives couples a safe, judgment-free space to have these conversations without the stress and angst that can be brought on by various life circumstances. You'll gain a better understanding of each other's views and create a foundation that supports your decisions and behaviors as a couple and parents.
If you're having difficulty in your relationship, don't wait until that chip in the glass turns into a deeper crack that starts spreading. Call 973-667-1884 or visit the mental health services page on the NFSB website for more information. You don't have to face these challenges alone or accept them as normal, and we'll always respect your privacy.