NFSB Welcomes Nikko Stevens as Assistant Thrift Shop Manager
Posted on

February 2, 2023

by

admin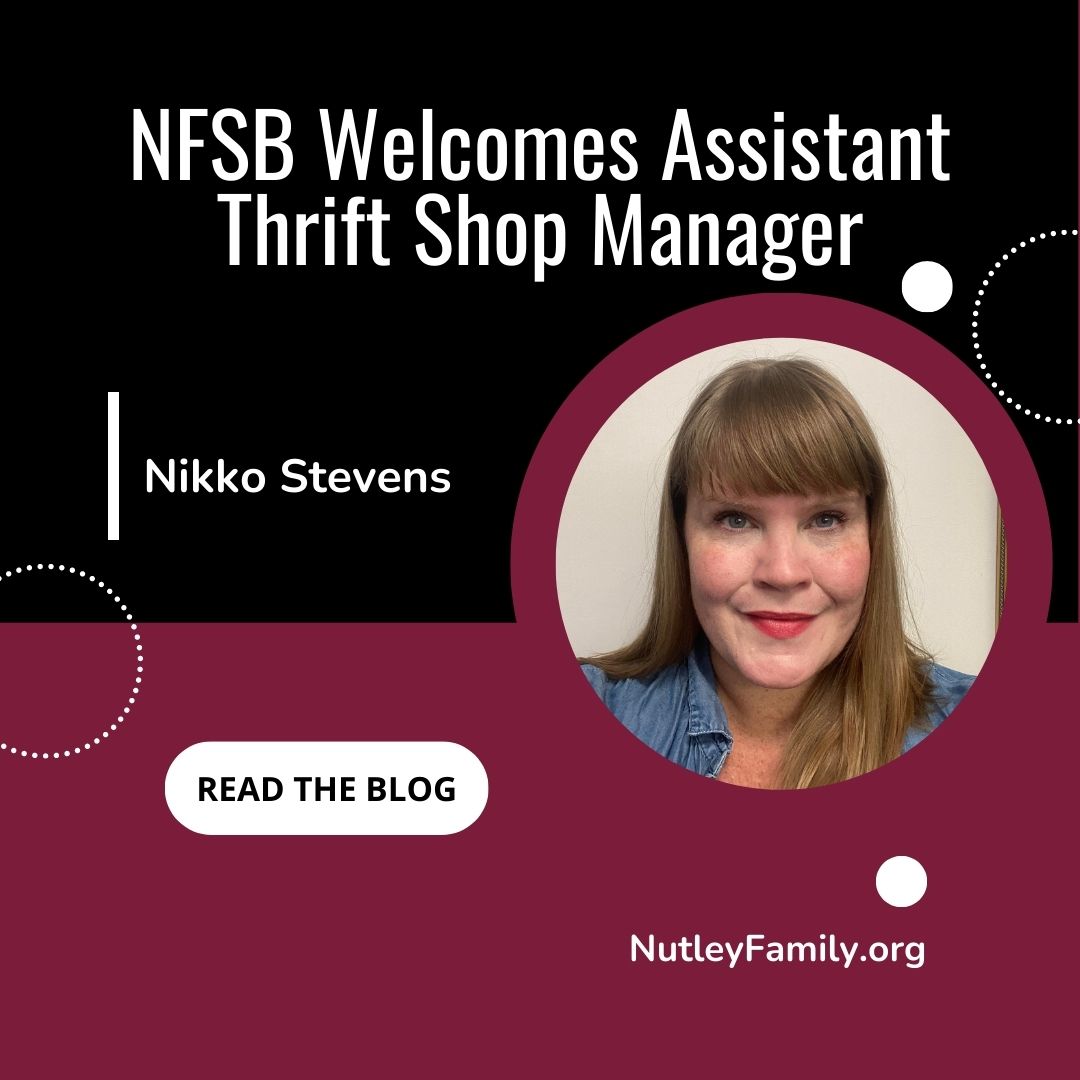 The Thrift Shop at Nutley Family Service Bureau (NFSB) is in growth mode. We're embracing the thrifting renaissance as more people look to recycle and reuse clothing and household items, save money, and preserve our natural resources.
We've also responded to increased demand by opening on Sundays and expanding shopping hours on weekday evenings and Saturdays. We have more inventory than ever, thanks to the generosity of the Nutley community.
With more shopping hours, more inventory, and more volunteers staffing the Thrift Shop, and more opportunities to increase revenue that supports NFSB programs and services, we needed someone to help manage the whole operation. That's why we're so excited to have Nikko Stevens as our Assistant Thrift Shop Manager!
Improving Your Thrifting Experience
Nikko is responsible for day-to-day shop operations, including volunteer coordination and staffing, instituting and reinforcing policies, organizing donated items, and helping clients find what they need. She's also playing an important role in strategic, long-term initiatives aimed at streamlining processes and building efficiencies into operations and maintenance of the Thrift Shop.
"With about 60 volunteers staffing the Thrift Shop every week and anywhere from four to 10 volunteers per shift, communication and efficiency are important," Nikko said. "As part of our accreditation process, we're developing a manual for policies and procedures. Everything we do will make shopping more enjoyable, which means more money raised for NFSB programs."
Another priority for Nikko is simply interacting with clients and people in the community, both in person and through social media. The goal is to build awareness of NFSB and thrifting and make sure they realize that their purchases fund much-needed services in their own community.
"We've been in the community for 110 years but people are still discovering NFSB and the Thrift Shop for the first time," Nikko said. "They see how much farther their money can go when shopping for reused items in a small, boutique-style shop rather than shopping new in a traditional retail store. I spend a lot of time talking to customers, collecting emails, curating our selection based on what people want, and promoting those items on social media."
Nikko's Background
Nikko spent 17 years as a manager at Barnes and Noble. She helped manage entire facilities, from scheduling up to 75 full-time and part-time employees, to rolling out new initiatives in an ever-changing retail landscape. She also worked in corporate retail for Target and Whole Foods.
A Brooklyn native who has also lived in Georgia, California, New Hampshire, and now in Bergen County, Nikko feels right at home at NFSB.
"When you work in corporate retail, the people making decisions don't have the perspective of the boots on the ground," Nikko said. "What I've found here is that everyone is so close to the heart of the organization. Everybody is right here and willing to help. There's a family atmosphere that makes it enjoyable to come to work each day."
This friendly feel extends to Thrift Shop clients, who are comfortable walking through our doors not just to shop, but to learn more about NFSB services.
"I want the community to know that it's okay to ask questions about other programs and services at NFSB when they come to The Thrift Shop," Nikko said. "That's why we're here. I'm working on my Spanish so I'm better prepared to help even more people. I'm not fluent yet, but I'm getting better and we learn from each other. Everybody here wants to help each other, which is a big reason why NFSB is so special."
Hours of operation at The Thrift Shop at 169 Chestnut Street are:
Monday to Friday, 10 am – 8 pm
Saturday, 9 am – 5 pm
Sunday, 11 am – 4 pm

Stop by to shop for clothing and household items, and visit The Thrift Shop page on our website for more information about donating items to the shop!