Personalized Shopping, Healthier Options Are Life-Changing for Food Pantry Clients
Posted on

November 9, 2023

by

admin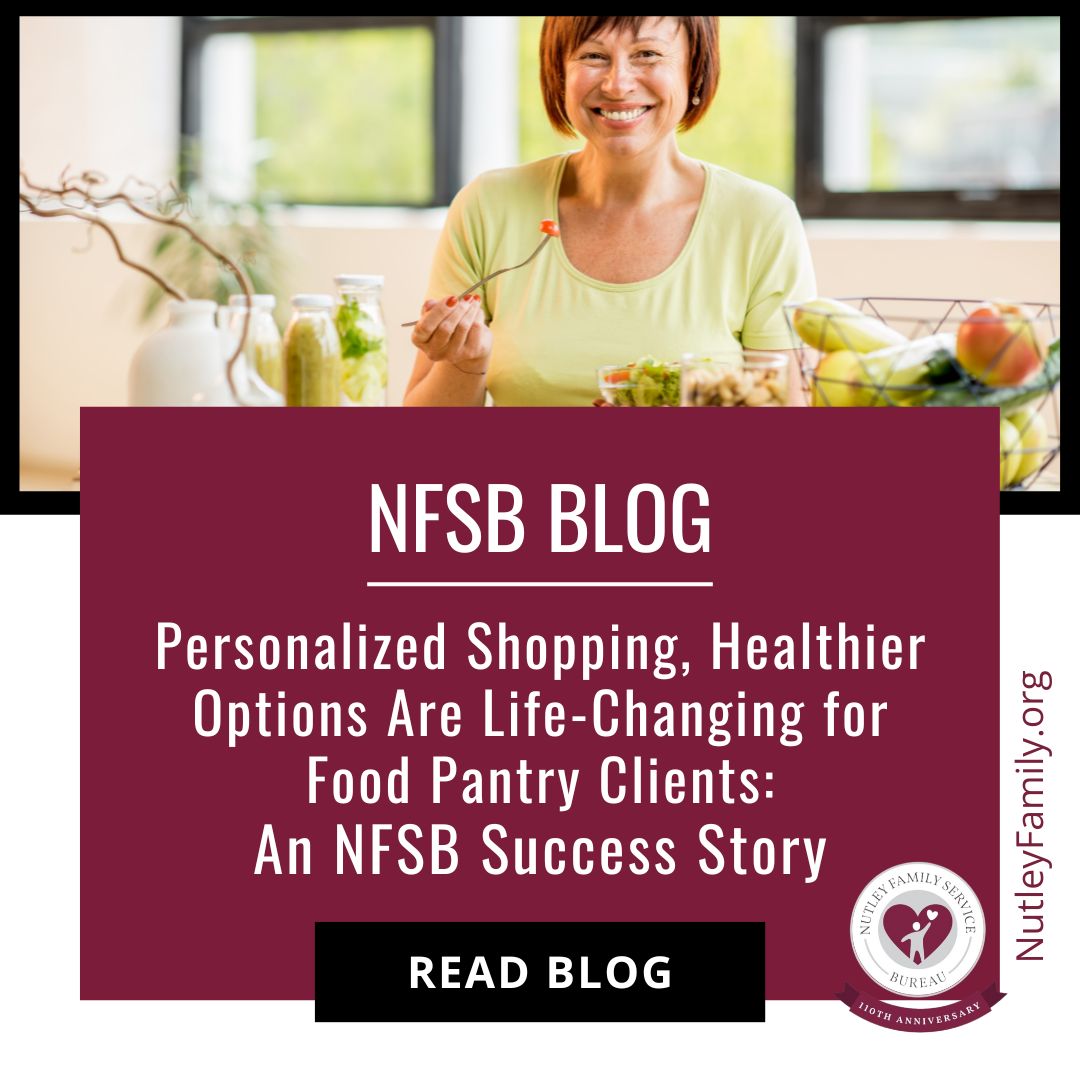 In 2022, the Food Pantry at Nutley Family Service Bureau (NFSB) switched from traditional food distributions to a "client choice" model. Instead of waiting in line to receive pre-packed bags of food, clients schedule individual appointments and "shop" for food that meets their dietary needs and preferences with the help of a Food Pantry associate.
As a result, clients are more likely to eat the food they take home, less food is wasted, and clients enjoy a personalized shopping experience.
Thanks to the generosity of both individual and business donors throughout the year, NFSB is also offering clients more nutritious, fresh options. Although we've always provided fresh items, we're providing clients with additional fruit, vegetables, proteins, milk, baked goods, and more, as well as shelf-stable items.
Angela, a long-time client of the Food Pantry, is a prime example of the life-changing impact of the switch to this new model with healthier food options. She has been coming to the Pantry for bi-weekly food distributions since it was run by the American Red Cross.
As a diabetic with high blood pressure, however, she couldn't enjoy much of the food she was given in pre-packed bags. In fact, Angela often shared the items with her neighbors because she didn't want food to go to waste.
Today, Angela is excited for her shopping appointments at NFSB and welcomes suggestions about food items that are low in sodium and fat and can help stabilize her sugar levels. She loves fresh produce and has learned how to incorporate omega 3-rich nuts, cauliflower, cantaloupe, and other healthy ingredients into her meals.
This has led to meaningful – and visible – improvements in Angela's health.
"I could see Angela looking more fit and told her that she looked wonderful," a Food Pantry associate said. "She mentioned that her doctor said he might be able to reduce her medication. One of our top priorities next year is to continue expanding our nutritious offerings and provide clients with nutrition education."
The Pantry staff and volunteers always look forward to seeing Angela because of her warm personality. Even though she's facing challenges in her life, she always maintains a positive outlook.
"Angela is just an absolute joy," the Food Pantry associate said. "She has such a natural, gentle way about her and she's so sincere and genuine. We truly enjoy spending time with her."
If you or someone you know is struggling to put food on the table, please contact the Food Pantry to enroll in our services. Stop by Monday to Friday, 9 am to 5 pm, or call 973-667-1884, extension 2.