POWER of PEACE Group Program Makes Connections with Young Students
Posted on

June 23, 2021

by

admin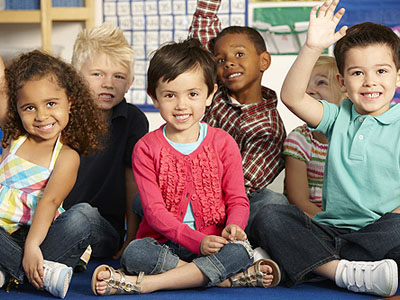 Since the pandemic, many school systems have made social-emotional learning a higher priority to help children process what's happening, learn self-regulation and conflict resolution, and become more resilient. Recognizing this need, Nutley Family Service Bureau (NFSB) introduced the POWER of PEACE Program for elementary-aged students.
As we discussed in a previous article, PEACE is an acronym for positivity, encouragement, attention, control, and empathy. NFSB offers three separate groups for first and second graders, third and fourth graders, and fifth and sixth graders. As we say during our meetings, each group has POWER, another acronym that is key to unlocking the group's potential:
Participate actively
On-task at all times
Watch instructions closely
Encourage each other
Respect others and their thoughts POWER of PEACE is rooted in the Conscious Discipline methodology, an evidence-based approach to social-emotional learning that provides behavior management strategies to create learning opportunities and help children succeed. In 2020, Conscious Discipline achieved the highest designation in the Collaborative for Academic, Social, and Emotional Learning (CASEL) Guide to Effective Social and Emotional Learning Programs.
Katherine Carmichael, M.S. Ed., MSW (Master of Social Work), LSW (Licensed Social Worker), and Executive Director at NFSB, had suggested that our team of clinicians and interns research an evidence-based CASEL program. Joe Armentano, MSW, LCSW (Licensed Clinical Social Worker), and Coordinator of Education and Staff Development at NFSB, named the program "POWER of PEACE."
Laura Munoz-Torres, LAC (Licensed Associate Counselor), ATR-P (Provisional Registered Art Therapist), and NCC (National Certified Counselor) stepped forward and researched different programs and put the curriculum together. This was truly a team effort that has led to meaningful results for Nutley students.
"I like Conscious Discipline because it's both evidence-based and inviting to families," said Laura, who co-leads most group sessions. "The program focuses on children and gives them a forum to express their feelings, but also encourages parents, educators, counselors, and therapists to come together and help kids become more successful and feel better about themselves."
One of the challenges of implementing and maintaining engagement with the POWER of PEACE program was COVID-19. In the past, NFSB had social skills groups that enabled kids to come together and interact. The pandemic forced the program to a virtual format.
In addition to overcoming common technological challenges, NFSB had to come up with creative ways to keep the kids in each group engaged. The team incorporated stories, puppets, arts and crafts, and other activities designed to achieve the goals of the program while maintaining engagement for each session.
The feedback from parents could be summed up in one word – gratitude.
"The success of POWER of PEACE speaks volumes about how much we all care about these children and our commitment to providing these services to the community," Laura said. "A lot of different people came together to make this happen. Seeing kids work with us virtually and make such progress has been truly remarkable, and the notes we've received from parents show just how much they need and appreciate the program."
To learn more about POWER of PEACE and other programs offered by NFSB in partnership with Nutley Public Schools, please call us at 973-667-1884.