We Need Your Votes to Win a $25,000 Grant for Nutley's Friendly Neighbor-to-Neighbor Program!
Posted on

April 29, 2022

by

admin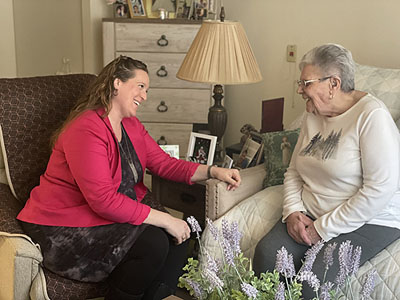 State Farm Neighborhood Assist will award $25,000 grants to 100 causes across the country. Nutley Family Service Bureau (NFSB) has been named one of 200 finalists among approximately 4,000 submissions. That means we have a 50-50 chance to win a $25,000 grant!
You can vote 10 times per day through Friday, May 6, 2022 on our entry page on the State Farm Neighborhood Assist website. Please vote and share with friends and family so NFSB can put this money to good use!
If we're awarded the $25,000 grant, the funds will be used to expand our volunteer services and create Nutley's Friendly Neighbor-to-Neighbor Program. The program will focus on matching volunteers with seniors for regular visits and calls.
"When seniors have visitors, it can change their lives," said Molly Clark, MSW (Master of Social Work), Case Management Coordinator at NFSB, who would lead the launch of the program. "Prolonged isolation and loneliness can affect a person's physical health, cognitive function, and emotional well-being. The pandemic has only added to the isolation. Having regular visits helps senior engage and become part of the world again."
In addition to offering seniors regular companionship, our volunteers can provide:
Nutritious food from our Food Pantry
Personal and household essentials from our Thrift Shop
Referrals for physical and mental health and social services
Initially, the grant would fund marketing for volunteers, training volunteers, and training a program coordinator. The key is to find the right fit between volunteers and the seniors they visit.
"It's like a matching service," Molly said. "Social workers typically find clients who are lonely and could use a friend. The program coordinator will try to find a volunteer with similar interests, whether they enjoy animals, games, sports, gardening, or other activities."
Molly is the perfect person to get Nutley's Friendly Neighbor-to-Neighbor Program up and running. Molly's previous employer started a similar visiting program while she was there. She saw what needs to be done to develop a program successfully, from screening and training processes to delivering a fulfilling experience for the client. Of course, the volunteers benefit from the program as well.
"Some people volunteer because they're lonely, too," Molly said. "Seniors have so many life experiences to share and so many years of wisdom to offer. They love to tell stories and volunteers love listening to them."
Of course, before we get too far ahead of ourselves, we need to win that grant! Look for Nutley's Friendly Neighbor-to-Neighbor Program on the leaderboard to see how NFSB is doing, and make sure you vote 10 times a day, every day, through Friday, May 6! You can even sign up at the top of the page to receive voting reminders via text!
Winners will be announced June 7, 2022. Thank you for your support!