NFSB Expands Internship Program to Support Increased Demand for Services
Posted on

March 30, 2023

by

admin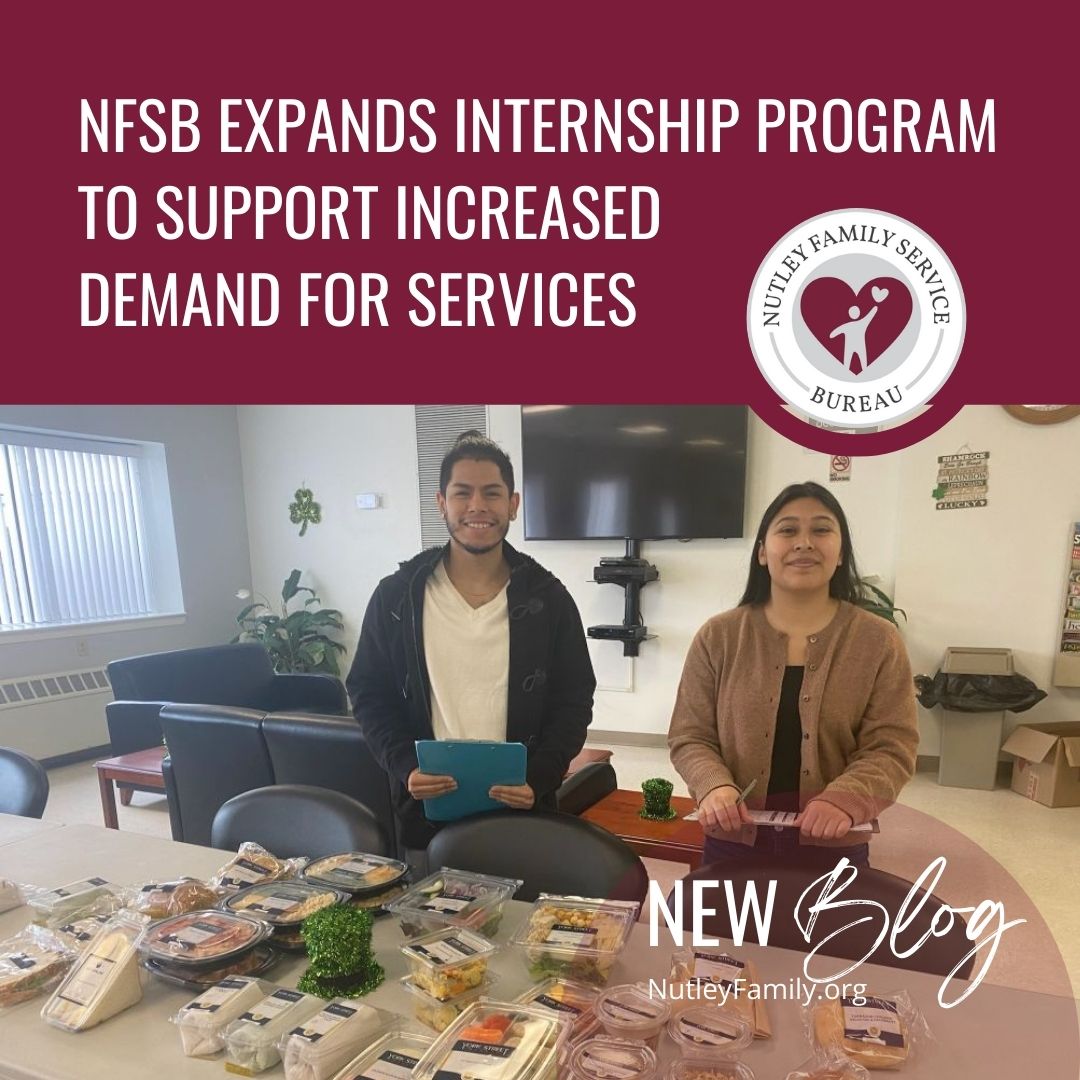 During the past two years, Nutley Family Service Bureau (NFSB) has introduced new programs and initiatives to meet growing demand for mental health counseling and social services in our community.
The journey has been rewarding, but It hasn't been easy.
"Our staff was stretched very thin and, as a nonprofit, our budget is tight," said Katherine Carmichael, Executive Director of NFSB. "NFSB already had a successful clinical internship program that dates back to the 1920s, but we had to find more resources to help our managers of other programs meet the needs of our clients."
With NFSB Senior Administrative Supervisor Yolanda Solis leading recruitment efforts, Katherine contacted the Bloustein School at Rutgers University, the Rutgers School of Social Works, Montclair University, and Caldwell University to discuss bachelor-level programs that offer internships. Nutley High School is also providing intern support. "Having the interns within the different programs throughout the organization has been a wonderful and rewarding experience", said Yolanda Solis.
As a result, NFSB has increased the number of interns from two or three per semester to nine interns who work a total of 120 hours per week. That adds up to nearly 500 hours per month.
Interns are now assisting case management with the Inclusive healthy Communities grant program, supporting the implementation of the Food Pantry's client management system and mobile pantry, helping with NFSB's accreditation process, implementing the Neighbor-to-Neighbor mentoring program and developing client satisfaction surveys for every program. Four interns speak Spanish, which helps us expand much-needed bilingual capabilities in several areas. Ari Gottesman, Intern for NFSB's Accreditation process, from the Bloustein School at Rutgers University said, "Nutley Family Service Bureau has given me the opportunity to get hands on experience I can't get in a classroom, it has been a fantastic learning experience."
"The passion, energy, and expertise that these interns are bringing to the organization are incredible," Katherine said. "Our managers are both relieved to have the help and excited to work with students who are genuinely happy to be here. They have great ideas and valuable skills, and they're great with clients. It's just magical to see up close."
Approximately half of the current NFSB staff are former interns. Our current interns are gaining valuable, hands-on experience that they can apply in their careers, whether with NFSB or another organization.
"In addition to receiving much-needed support for our programs, we view internships as a way to give back by providing educational and development opportunities," Katherine said. "This is part of our values and vision, being an entry point to the profession and setting the tone for a lifetime of service."
The expansion of the NFSB internship program comes down to a simple question. What steps can we take that will enable us to do more?
This initiative was sparked by an immediate need to provide food to families in the community and support various programs through case management. Given the impact interns have made in a short time, we're planning to expand the internship program even further.
"NFSB is growing because need for our mental health and social services is growing," Katherine said. "Adding interns to support our staff and our wonderful family of volunteers has already been a game-changer. We're grateful for our partners in academia and look forward to welcoming more interns in the future."