Alyssa Gives Back and Cultivates Her Talent Through Volunteering
Posted on

August 4, 2022

by

admin
Nutley Family Service Bureau (NFSB) is proud to award the first Bedford Scholarship to Alyssa Ostrowski of Nutley High School's Class of 2022. The $1,000 scholarship is named for Ruth Bedford, a decades-long NFSB board member who was affectionately known by many as the matriarch of Nutley, and will be awarded to each year to a student who has volunteered at NFSB.
"Volunteering at Nutley Family Service Bureau opened my eyes to different parts of people's lives," Alyssa said. "It helped me realize how important it is to help other people in the community and try to make a difference. To receive a scholarship based on my volunteering is special. I'm really grateful for that."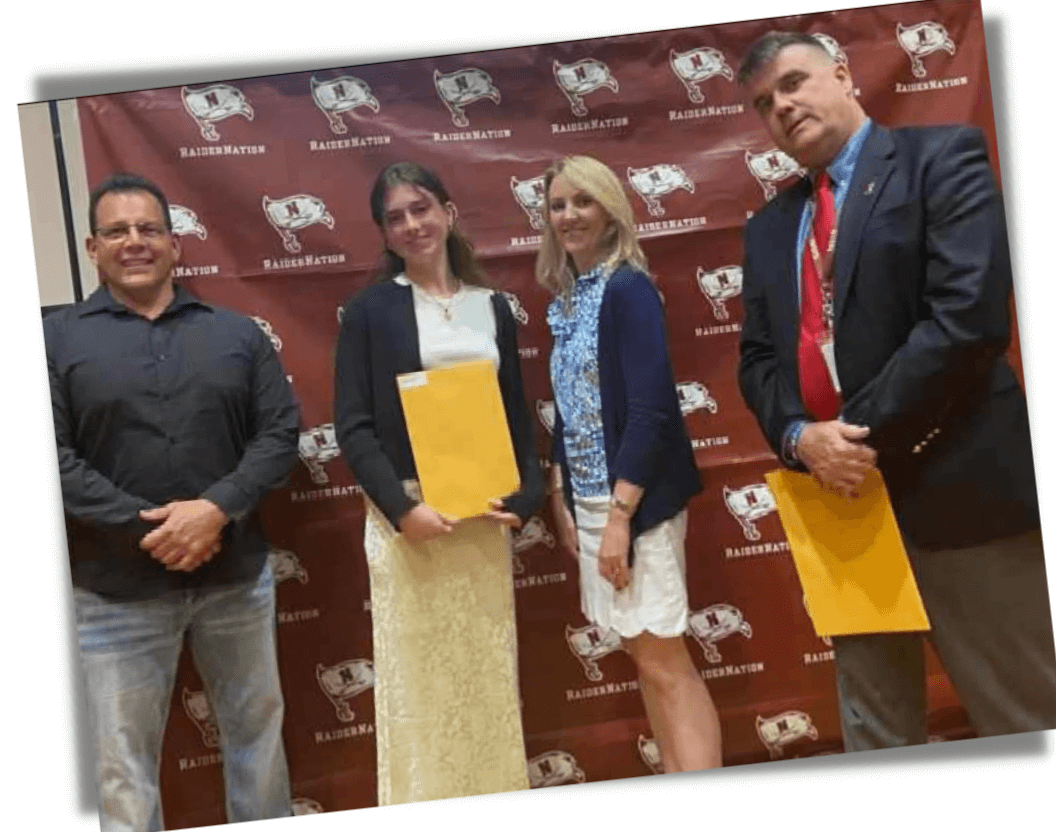 Alyssa's schedule was packed with activities at Nutley High School, where she was a four-year cheerleader and captain during her senior year. She was also a member of National Honor Society and Spanish Honor Society and involved with the American Sign Language Club and Women's Activism Club.
Before she started volunteering at NFSB, Alyssa was part of the Peer Leadership program at St. Mary's Church in Nutley, where she helped organize activities for younger children and assist the church in a variety of ways. She also served as a youth recreation cheerleading coach.
Alyssa's has always been passionate about fashion and thrifting. She enjoys researching older clothing and other items to find out the story behind them. This passion drew her to The Shop at NFSB.
"I loved sorting through the donations, putting clothes and little knick-knacks out in the store, and helping with the eBay store," Alyssa said. "It was fun to go online to find out when items were made, learn about their history, and figure out pricing. The best part was talking to the clients, getting to know them, and helping them find things they want and need."
Alyssa is enrolled at Marist College in Poughkeepsie, NY. Although she hasn't declared a major, continuing to cultivate her talent for fashion is definitely on the table.
"I'm really excited to go to Marist, look at my options, and figure out what my major will be," Alyssa said. "They do have an amazing fashion program so I can't wait to look into that."
Alyssa is thankful for the scholarship from NFSB and for being given opportunities to help people. She expects volunteering, community involvement, and service to always be a big part of her life.
"I volunteered to help others, but I've gained so much from volunteering," Alyssa said. "The people at Nutley Family Service Bureau showed me how you can make a difference in so many ways. I've learned how important community involvement is and hope to make service part of everything I do in the future."
NFSB awarded two scholarships to graduating seniors for the first time this year. All applicants must have volunteered at NFSB and were required to write an essay on the impact volunteering has had on their lives.
"We hope these scholarships help to instill volunteerism and service as core values as young people enter the next phase of their lives," said Katherine Carmichael, Executive Director of NFSB. "We at Nutley Family Service Bureau are proud to help Alyssa as she moves on to college, and I can't wait to see how she uses her talents in the future!"