How the New Adopt-a-Shelf Program at The Pantry Aims to Provide Healthier, Fresher Food Options for Those in Need
Posted on

November 30, 2021

by

admin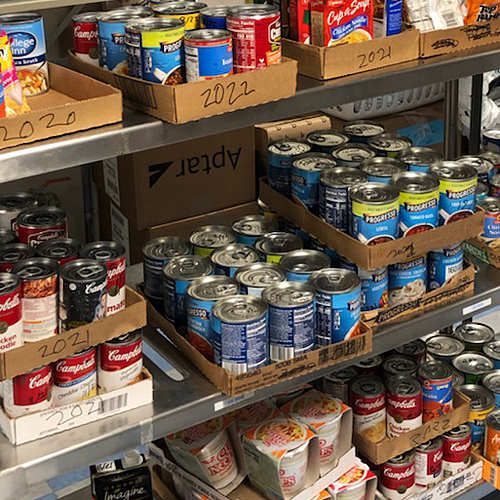 The biggest challenge faced by The Pantry at Nutley Family Service Bureau (NFSB) is keeping fresh items in stock. We need to stock each shelf in our refrigerator and freezer with enough milk, eggs, cheese, meat, and poultry to meet the needs of the community, but this is an ongoing challenge because these items are expensive and have a limited shelf life.
"People who rely on food pantries are disproportionately at risk for diet-related diseases such as diabetes and hypertension, yet we know that most would like to eat fresh fruit, vegetables and proteins if available," said Katherine Carmichael, NFSB Executive Director.
According to Feeding America, "Family members in food-insecure households are also more likely to struggle with psychological and behavioral health issues. And kids struggling to get enough to eat are more likely to have problems in school and other social situations."
"Each year, the Scouts do such a wonderful job with the Scouting for Food Drive and recently supplied us with enough nonperishables to cover the entire year," said Peg Conca, Manager of The Pantry and The Shop at NFSB. In addition to the Scouts annual drive and other initiatives, The Pantry enjoys partnerships with businesses and nonprofits that support our healthy food initiative with donations throughout the year. Some main contributors include the Nutley Community Garden, Community Food Bank of NJ, Nutley Park ShopRite, NJ Food and Clothing Rescue, Imperfect Foods, and US Foods.
"But we still need to keep the fridge and freezer full of fresh items that don't last very long," said Peg. "We're continually looking at creative ways to keep our 250 households and 640 individuals healthy." Therefore, the NFSB Pantry is launching the Adopt-A-Shelf program.
As a part of the Adopt-A-Shelf program, individuals, groups, business, and organizations are asked to commit to sponsoring a shelf in our Pantry refrigerator or freezer for a particular item, milk, eggs, cheese, meat, or fresh produce. Sponsors can make a commitment ranging from 1 month to 1 year. A sign will be prominently displayed on the shelf for the duration of your sponsorship and will also be displayed on our website as a participating partner.
For example:
A corporation could adopt a shelf for six months or an entire year.
A philanthropic organization could fund a specific product, such as milk, for one month.
An individual could donate enough money to provide the Senior Grocery program with milk and eggs for a week.
How to Get Involved
The Adopt-A-Shelf program is meant to be simple for everyone. A group or individual collects their item on an ongoing basis and then drops off their donations at the designated donation area for The Pantry.
The "adopter" lets us know what quantity they'd like to donate on an ongoing, monthly basis. If the shelf requires more than one group or individual to keep it stocked, we simply assign a co-adopter.
It's also possible to make a monthly cash donation to enable us to purchase frozen items, such as meat, milk, or eggs.
Current shelves open for adoption include for a particular item, milk, eggs, cheese, meat, or fresh produce.
If you or your group are interested in joining our Adopt-A-Shelf program, please contact our Joan Roake, Pantry Assistant at jroake@nutleyfamily.org
Deliver them to the Nutley Family Service Bureau Pantry at 169 Chestnut Street, Nutley, NJ 07110. Call The Pantry at 973-667-1884 x2 to make arrangements to drop of the items Mon.-Fri. 9:30-5:30.
The Adopt-a-Shelf Program is part of our larger effort to create a healthier experience for households of The Pantry by providing fresh, healthy food options. If you'd like to discuss how you can support our efforts to feed those in need, please visit The Pantry at NFSB or call 973-667-1884 extension 2.